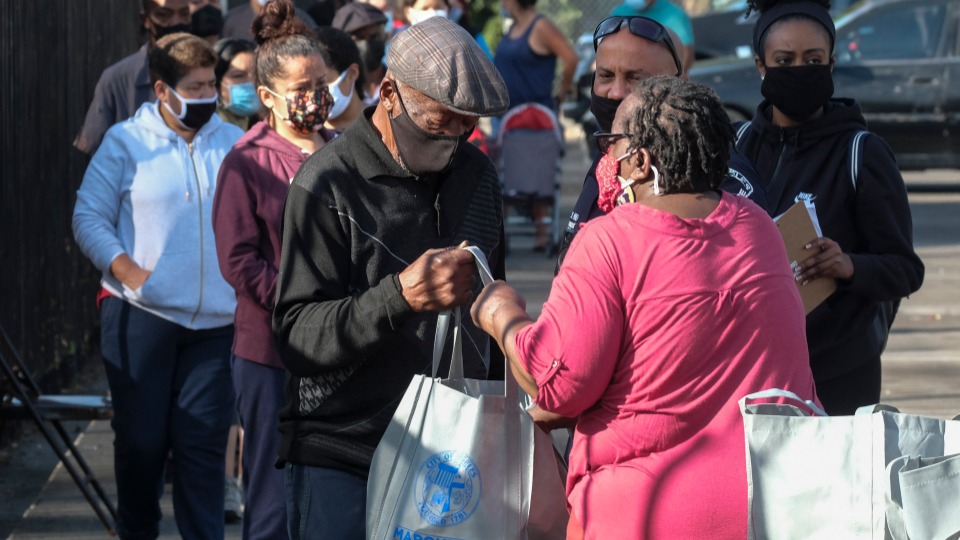 WILMINGTON, Del.—With the numbers of poor people in the U.S. rising due to the coronavirus pandemic and the resulting economic depression, the New Poor People's Campaign took its case to make eradicating poverty a top national priority to top staffers for Democratic President-Elect Joe Biden. And they got a positive reception, they reported on Dec. 17.
December 18, 2020 9:10 AM CST BY MARK GRUENBERG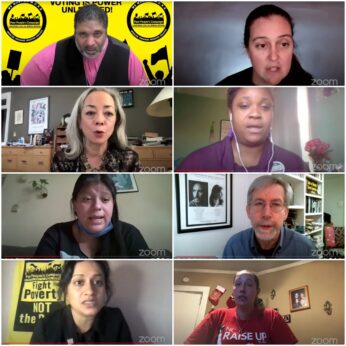 –Some of the participants in the Dec. 17 session convened by the New Poor People's Campaign. | PPC via YouTube
The Zoom session between NPPC and the Biden team occurred the day after University of Chicago Public Policy Professor Bruce Meyer and Notre Dame Professor James Sullivan used their COVID-19 Income and Poverty Dashboard to report that a record 7.8 million people had fallen into poverty since the pandemic officially began on March 13.
The coronavirus has ravaged people of color and the poor more than other population groups. But while the virus strikes more proportionately at the poor and near-poor, others are vulnerable, too.
As an example, the Biden transition announced later that one top leader who attended, Rep. Cedric Richmond, D-La., had tested positive for the virus, joining 17 million other people nationwide.
The depression followed soon after the viral plague began, driving unemployment up to almost 20% in official statistics and beyond it in real terms. The higher figures rivaled the 25% official jobless figure at the depths of the Great Depression of the 1930s.
Joblessness and poverty are still high, said NPPC Co-Chairs the Revs. William Barber II and Liz Theoharis. They, a cross-section of poor people, and top policy analysts Thea Lee of the labor-backed Economic Policy Institute and John Kavanaugh of the Institute for Policy Studies went into detail about both causes and solutions.
They planned to repeat that message on Dec. 21 to the 101-member House Progressive Caucus. In turn, the lawmakers plan to endorse the NPPC agenda, Barber said. The NPPC will also resume its Moral Monday marches, culminating in a large face-to-face rally in D.C. once the pandemic recedes.
"People matter in pushing politicians. They then have to go further than they imagined they would," Barber explained.
Meantime, they also demand Biden convene a post-inauguration White House roundtable on how to eradicate poverty and order a high-level commitment to doing so.
The delegation explained NPPC's 14-point platform to make eradicating poverty the centerpiece of the Biden administration, as Biden had promised. It includes detailed moves to combat the virus, such as guaranteeing free vaccine and other medical care to the nation, notably its 140 million poor and near-poor—now 148 million if you add in those the two researchers found.
The platform also includes pro-worker actions, such as a $15 federal minimum wage and extending that to tipped workers, such as porters and restaurant servers, too. It advocates strengthening and expanding worker rights and the right to organize and extending worker rights to groups of people—mostly Black and brown—whom systemic racism has shut out of both worker protections and jobless benefits.
It also features restoring and strengthening civil rights laws and the Voting Rights Act. It would include combatting white nationalism, including religious nationalism.
And it would cut the $740 billion Pentagon budget almost in half and redirect those funds to domestic needs, notably infrastructure jobs, education, guaranteed housing for all, rent and mortgage relief during the pandemic, better medical care, and free tuition for students at public two- and four-year colleges.
Comprehensive immigration reform and legalization would accompany stopping work on GOP Oval Office occupant Donald Trump's racist Mexican border wall.
The NPPC platform also would dump the $1.5 trillion Trump-GOP tax cut for corporations and the rich, and fairly tax them, too, Theoharis said. That money also would go to eradicating poverty. The entire agenda, in detail, is at www.poorpeoplescampaign.org.
Barber told the 10 top Biden aides—Richmond, Susan Rice, Yohannes Abraham, Cecilia Munoz, Ashley Allison, Jessica Hertz, Minyon Moore, Stef Feldman, Mark Gitenstein, and Josh Dickson—that six million more poor and near-poor people voted in presidential balloting this year than did in 2016, and that 55% voted for Biden and running mate Sen. Kamala Harris, D-Calif.
That was due to an enormous registration drive, get-out-the-vote effort, and protect-the-vote campaign NPPC undertook in key swing states, he added.
But helping the poor out of poverty for good is really both a moral and an economic plus, Barber, Theoharis, and the others told the Biden aides.
"I've known 41 people who died because of the coronavirus and the failures of our health care system," Zilah Wesley of D.C., told them. "It's very challenging. Hospitals are overrun and people are" lying on beds "in the hallways."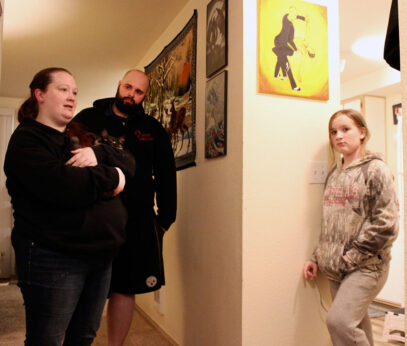 A fresh wave of evictions is expected by year's end as people struggle to get by with no jobs and no economic relief from the government. Here, Taylor Wood and her boyfriend, Ryan Bowser, talk to Wood's 10-year-old daughter, Freya Wood, in their Corvallis, Ore., apartment on Dec. 11, 2020. The family, who has been living in the apartment for over two years, has missed three rent payments during the pandemic. | Sara Cline / AP
"We're expecting eviction notices coming soon" when a moratorium on evictions of renters and mortgage foreclosures expires Dec. 26, said L.A. Tenants Union organizer Kenia Alcozer, an undocumented mother of two who previously tested positive for the virus. "We now have an increase in homelessness we have to address."
Durham, N.C., restaurant worker Sara Farringdon, a leader in a "Fight for $15 and a Union" in the Tar Heel State, called the group "voices of workers." She added that "I've worked since I was seven years old, and I'm still working 43 years later. I've been homeless with my children. I make $3.10 an hour" as a worker who depends on tips.
"We have to unionize and we need the $15 [federal minimum wage
LISTEN:

People's World Podcast Interview: Rev. Liz Theoharis talks voter suppression and poverty
Similar Recent Posts by this Author: