Alexei Navalny out of induced coma and is responsive, says Berlin hospital
UK summons Russian ambassador as hospital says opposition leader's condition is improving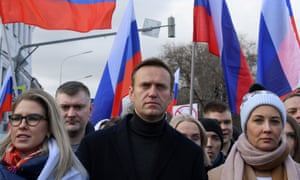 Alexei Navalny, his wife Yulia, opposition politician Lyubov Sobol and other demonstrators taking part in a march in memory of murdered Kremlin critic Boris Nemtsov in Moscow in February. Photograph: Kirill Kudryavtsev/AFP/Getty
The Russian opposition leader Alexei Navalny has been taken out of an induced coma and is responding to speech, the German hospital treating him has said, as the UK summoned the Russian ambassador to express its concern.
The Charité hospital in Berlin, which has been treating Navalny since 22 August, said his condition was improving and that he was also being weaned off mechanical ventilation.
Navalny fell ill on a flight last month and was treated in a Siberian hospital before being evacuated to Berlin. Germany last week said he had been poisoned with the nerve agent novichok.
In a statement on Monday, the Charité hospital said: "The patient has been removed from his medically induced coma and is being weaned off mechanical ventilation. He is responding to verbal stimuli. It remains too early to gauge the potential long-term effects of his severe poisoning.
"The treating physicians remain in close contact with Mr Navalny's wife. After consultation with the patient's wife, Charité is reassured that the decision to make details of the patient's condition public would be in accordance with his wishes."
The UK foreign secretary, Dominic Raab, said the Russian ambassador was being summoned over the incident. "It's completely unacceptable that a banned chemical weapon has been used and Russia must hold a full, transparent investigation," he said in a statement.
The German chancellor, Angela Merkel, said last week there was "unequivocal evidence" that Navalny, a vocal critic of Vladimir Putin, had been poisoned using the Soviet-era nerve agent.
Similar Recent Posts by this Author: