'They're here now': Great white and hammerhead sharks already in UK waters, say Devon fishermen
Published time: 23 Jul, 2018 14:55Edited time: 23 Jul, 2018 15:42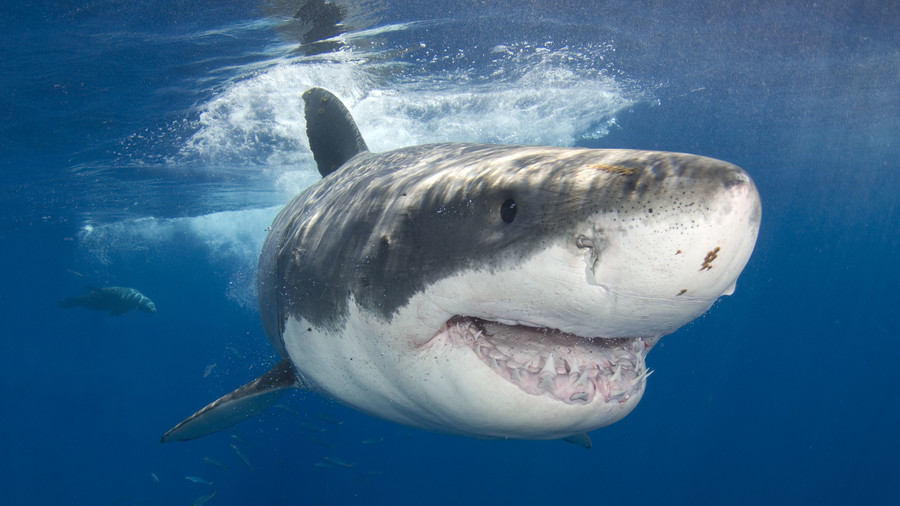 Great white and hammerhead sharks have been spotted swimming off the Devon coast by local fisherman, fulfilling biologists' recent prediction that the animals would migrate to UK waters by 2050 because of soaring temperatures.
A study last week by the University of Southampton's National Oceanography Centre found that up to 10 species of sharks currently inhabiting warmer waters, such as the Mediterranean Sea and coast of Africa, could migrate to the UK in the next 30 years because of rising ocean temperatures.
Among those expected to migrate are great whites, depicted in Steven Spielberg's hit movie 'Jaws,' which can measure up to 6.1 meters.
Other species include hammerheads, blacktips, bronze whalers and oceanic whitetips.
According to some locals, however, the marine animals have already reached the southwest coast of England.
Ashley Lane, who runs Ashley's Fishing Trips from Paignton in South Devon, told Devon Live: "Great white sharks are there now, I'm sure of it. I've not seen one myself but I do speak to a lot of fisherman who say they have.
"I think species like this swimming off the Devon coast would be a great thing and definitely good for my trade – people would love to see that sort of thing.
"However, you are then baiting wildlife, which interferes with the ecosystem – they are not pets and shouldn't be treated as such."
Another fisherman, however, said he would never sell shark meat – even if the species did actually start inhabiting British waters.
"Sharks are very important in the food chain," Dan Garnett told the Devon Live.
"The only predator they really have is man and I think we should leave them alone – that's why I don't sell shark," the fisherman said.
Similar Recent Posts by this Author: