Up to 70 Tories may refuse to back Boris Johnson's Covid tiers, say MPs
Fury over constituencies being moved into tougher restrictions after lockdown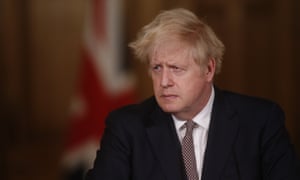 MPs are also unhappy that Boris Johnson's post-lockdown system puts entire counties into single tiers rather than varying rules more locally. Photograph: WPA/Getty Images
Boris Johnson faces a potentially perilous battle to get England's new coronavirus tiers plan through parliament after dozens of Conservative MPs protested at the curbs for their areas and demanded to see the evidence behind them.
Some MPs predicted that, without significant change between now and Tuesday, when the vote on the system to replace the current England-wide lockdown takes place, as many as 70 Conservatives could vote against the plan or abstain. This could mean relying on Labour for the vote – which takes place on the day the lockdown lapses under law – to pass.
Particular vehemence came from Tories who found their areas moved from tier 1 under the pre-lockdown system to tier 2 or, in the case of Kent, to the most rigorous restrictions of tier 3 starting at 00.01 on Wednesday 2 December.
Tier 3 rules force the closure of pubs and restaurants, which can offer takeaways only, and ban indoor social mixing between households or bubbles.
"We went into lockdown at tier 1 and came out at tier 3," said Tom Tugendhat, the senior backbencher who represents Tonbridge and Malling in Kent. "This isn't working for us."
Jonathan Djanogly, MP for Huntingdon in Cambridgeshire, who voted against the current lockdown, said he could oppose the government again.
"My constituency went into second lockdown, against my wishes, at tier 1 and, with great cost to the local economy, has come out of lockdown at tier 2 – am I missing something here? I will need to have this justified before voting for it."
Former Foreign Office minister Harriett Baldwin said she had voted for the lockdown on the basis it would allow time to develop better strategies to live with Covid.
She said: "Over 23 million of us were living under tier 1 restrictions before the lockdown – that figure will be under 1 million in December. There is no logic whatsoever in having a month of lockdown only for people to have to live under an even more severe set of restrictions afterwards."
While the government may need to rely on the opposition for the vote to pass, Alex Cunningham, Labour MP for Stockton North, said north-east England MPs were told during a call with the government that it was "unlikely" they could move to tier 2 before the new year. He said: "I can't help but think the government have no intention of changing things for our region."
Similar Recent Posts by this Author: