US Capitol building stormed
By AI HEPING in New York | China Daily Global | Updated: 2021-01-07 04:05
Video source: Twitter@ElijahSchaffer>
– Four people die amid violence at US Capitol
– US Congress resumes certification process after Capitol secured
– Leaders, business groups condemn chaos at US Capitol (Read more)
– Biden condemns 'insurrection' at US Capitol, as Trump urges supporters to 'go home'
– Facebook joins Twitter in blocking Trump from posting following storming of US Capitol by his supporters
The US Capitol building was stormed by hundreds of people carrying pro-Trump signs and American flags on Wednesday, breaking into the House and Senate chambers as a joint session of Congress began counting Electoral College votes to affirm President-elect Joe Biden's victory.
A woman identified as Ashli Babbit, an Air Force veteran, was shot during the melee inside the building and later died. She was from the San Diego area and was a staunch supporter of the president, her husband told KUSA-TV. A video showed her draped in red, white and blue around her neck on the floor of the Capitol with blood pouring from her mouth.
About two hours after Metropolitan Police cleared the building and the Capitol steps of protesters, the Senate resumed the process on Wednesday night to affirm Biden's Electoral College victory.
Vice-President Mike Pence, who presided over the joint session of Congress, said from the dais, "Violence never wins. Freedom wins. And this is still the people's house."
Hours after the siege, House Speaker Nancy Pelosi of California described the attack as "a shameful assault … on our democracy. It was anointed at the highest level of government. It cannot, however, deter us from our responsibility to validate the election of Joe Biden."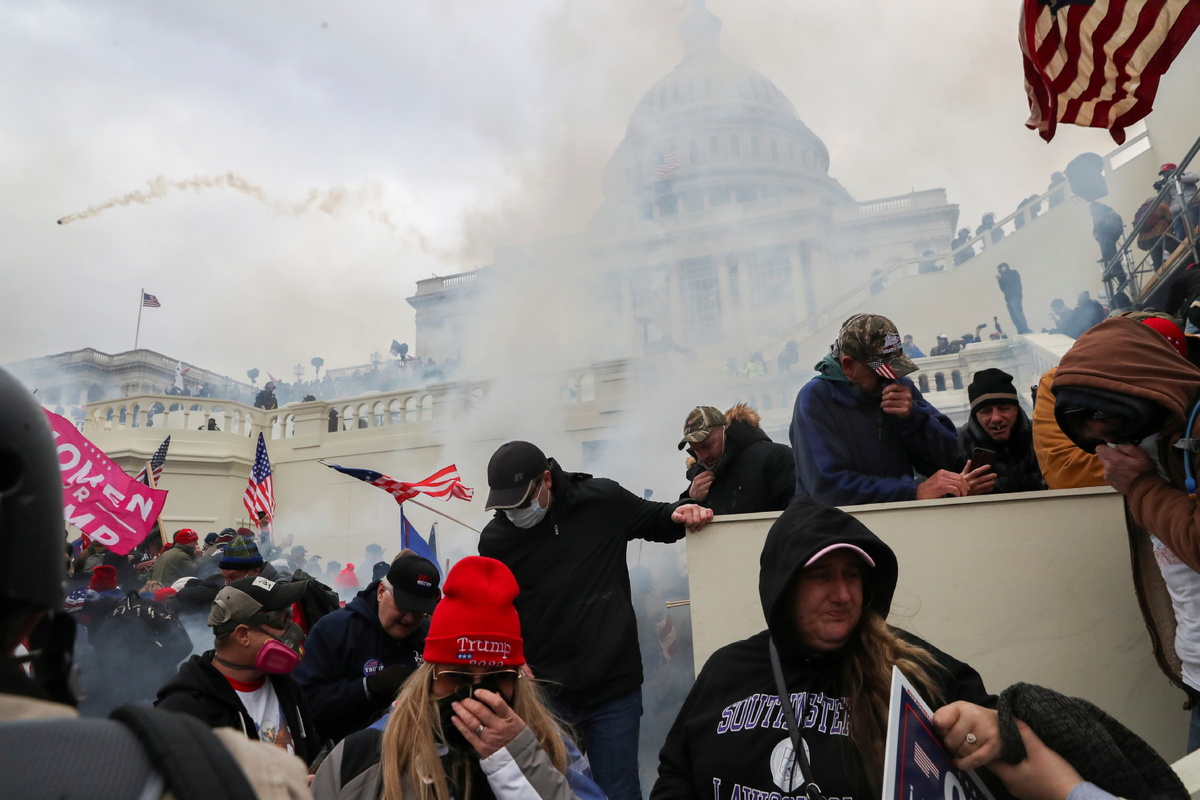 Supporters of US President Donald Trump cover their faces to protect from tear gas during a clash with police officers in front of the US Capitol Building in Washington, January 6, 2021. [Photo/Agencies]
Many lawmakers said they were eager to resume the certification of the vote, saying they didn't want to let the protesters stop them from carrying out their constitutional role.
"Everyone is committed to staying. Whatever it takes to get our job done," Democratic Senator Joe Manchin of West Virginia said. "These thugs are not running us off."
Many of the thousands who went to the Capitol building had marched from a "Save America Rally" at 11 am near the White House where President Donald Trump had spoken ahead of Congress' vote to affirm Biden's Electoral College victory.
"We will not let them silence your voices," Trump told supporters. "We will stop the steal," he said, using the rallying cry of protests against the election results.
Shortly after 1 pm ET, hundreds of people among the throng of pro-Trump protesters pushed through barriers set up along the perimeter of the Capitol.
They started to storm the Capitol building. For a time, senators and members of the House were locked inside their respective chambers.
Similar Recent Posts by this Author: