London cop suspended over footage of officer kneeling on man's neck during arrest
17 Jul, 2020 20:57

/ Updated 20 hours ago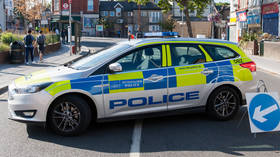 One Metropolitan Police officer has been suspended and another one removed from operational duties over an incident, captured on camera, in which a cop knelt on a suspect's neck during his arrest in Islington, London.
Filmed by a concerned bystander, the footage shows two police officers holding a handcuffed black man on the ground. The suspect is heard to scream, "Get off my neck," as one of the policemen appears to put his knee on him.
A crowd can be seen gathering, and the officer takes his knee off the suspect to stand up and confront the onlookers, including some who are filming the incident as it unfolds.
A "voluntary referral" over the July 16 incident has been made to the Independent Office for Police Conduct (IOPC) for investigation, according to the Met.
Metropolitan Police Deputy Commissioner Sir Steve House called the footage "extremely disturbing," adding that the arrest techniques captured in the video "cause great concern," as they are not taught in police training.
The Met said the man in the video was arrested on suspicion of affray and possession of an offensive weapon. He remains in custody and investigations concerning him are continuing. House also said that the suspect "has been seen by a police doctor."
London Mayor Sadiq Khan said he was "deeply concerned about this distressing incident," adding in a statement that he welcomed the police review of the arrest and its referral to the IOPC.
The arrest footage has also reignited a national conversation around chokeholds in the UK. Law professor and barrister Leslie Thomas argued on Twitter that "all chokeholds should be outlawed," with "No discretion to officers, no grey areas."
A spokesperson for the College of Standards of Policing said that officers are "actively encouraged" to avoid performing chokeholds due to the inherent dangers of putting pressure on a person's neck or throat.
The use of chokeholds by law enforcement officers has become a particularly contentious topic following the death of George Floyd, an African-American man killed in Minneapolis after a white police officer knelt on his neck for more than eight minutes during his arrest.
Similar Recent Posts by this Author: