EU rough sleepers win damages for illegal deportations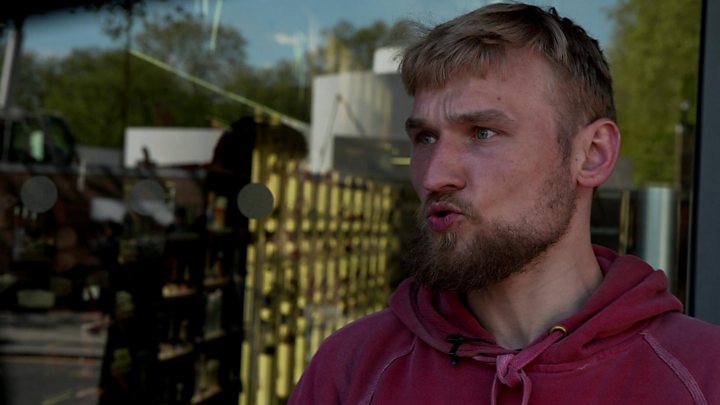 Media captionTomas Lusas, a Lithuanian national, was awarded £10,000 after being illegally detained
The government is to pay hundreds of thousands of pounds to European rough sleepers who were illegally detained and deported.
Figures obtained by the BBC reveal that in the year to May 2017, 698 homeless EU nationals were targeted and removed from the country.
The Home Office said no further action was being taken against European citizens for rough sleeping.
Law firms told the BBC that at least 45 clients were currently pursuing claims.
Each claim is worth thousands of pounds, and varies according to the length of time spent in detention as well as other aggravating factors.
'Freedom taken away'
Tomas Lusas, from Lithuania, was arrested by immigration officers in 2016 after being kicked out of his home and forced onto the streets in west London.
He said: "One morning I was woken up in my sleeping bag. There were six or seven officers and they said 'Home Office'.
"They took my ID. Two minutes later I was in handcuffs. Two minutes after that I was in a van.
"I was shouting, 'I'm gonna lose my job if you arrest me today'. But nobody listened to me. Nobody allowed me to explain why I was sleeping rough."
Mr Lusas refused to sign his removal papers and was detained at Brook House Immigration Centre in Gatwick for 19 days.
"It was like being in jail," he said.
"Your freedom is taken away. And what kills you is that you don't know the end of your sentence.
"I've spent nine years of my life in England and I didn't want to leave just because I was sleeping rough."
Mr Lusas appealed against his deportation and was successful. He was later awarded more than £10,000 in damages.
Unlawful and discriminatory
The Home Office under Theresa May introduced the concept of rough sleeping as an abuse of EU treaty rights two years ago.
But immigration enforcement teams were targeting rough sleepers even if they were in work or had a permanent right of residence in the UK.
The policy was halted after a judicial review in December ruled it to be unlawful and discriminatory.
Leonie Hirst, an immigration and public law barrister, said anyone from the EU or the European Economic Area who had been detained or deported in similar circumstances could now make a potential claim.
"The EU law is clear and very robust, but the policy was a very flimsy attempt to misuse the law, simply to meet immigration targets," she said.
"I think it is highly unlikely, particularly given that people were targeted who were working, that this policy has done anything except cost significant amounts of public money."
Ms Hirst said she had heard evidence that immigration teams were working to quotas.
She said she had seen cases where officials were ignoring the usual practice of inquiring into individual circumstances before deciding whether to remove them.
"One of my clients told immigration officers that he had payslips with him to prove he was working, and he had the response, 'we don't want to see those, we're operating quotas'," she said.
A Home Office spokesperson said that "claims for compensation will be considered on a case-by-case basis" and that the government was "determined to break the homelessness cycle"
Similar Recent Posts by this Author: