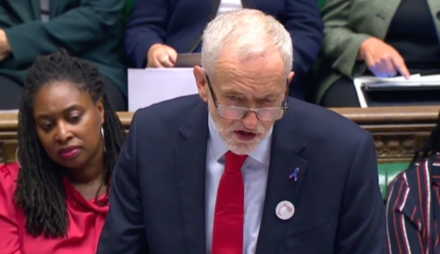 Last night, the Labour Party launched a new tool,
which asks the question: "Is austerity really over?".
The answer is, of course, "No". It adds gloomily: "In fact, the worst is yet to come."
At Prime Minister's Questions today, Jeremy Corbyn followed up on this theme. Since Theresa May announced the "end of austerity" at Conservative Party conference last week, Labour frontbenchers have been pointing out that we've heard this promise before – and yet we still haven't seen a stop to swingeing cuts.
It's World Mental Health Day, which prompted Corbyn – emblazoned with the new Labour Campaign for Mental Health logo – to kick off with his first stat: there are 5,000 fewer mental health nurses now than in 2010.
"The Prime Minister said austerity is over. When will it be over for the mental health services?" As May struggled to claim "mental health is being given the attention it needs", she cheekily pointed to parity of esteem between mental and physical health – the Labour leader was quick to clarify that this was a Labour amendment, which was opposed by the government at the time.
Next, violent crime. Every MP will know that anti-social behaviour of all kinds is a top concern for all their constituents, from the poorest to the most privileged, and that the knock-on effects of austerity has seen it increase. 21,000 police officers have been cut, Corbyn said. And the Police Federation is "taking the government to court" over pay awards. "When will austerity be over for the police?"
The Labour leader moved swiftly onto education. Damian Hinds, the current Education Secretary, has been "rebuked four times for making false claims about education funding". So will teachers see the end of austerity, and finally receive a real-terms pay rise? The Prime Minister didn't bother to address those questions.
And local government, which has seen a funding cut of 49% under the Conservatives. The Tories advocated localisation, giving councils more responsibility, then took away their ability to support and provide services. This was the focus of Labour's latest party political broadcast, 'Our Towns', because the devastating effects of austerity at a local level – whether that's reduced rubbish collections or the closure of a dementia day centre relied upon by family members – are evident for all to see. And that includes key marginal seats Labour will target at the next general election. Today, Corbyn unpicked the Prime Minister's claim that the Tories are putting an end to austerity and exposed it as a lie.
Similar Recent Posts by this Author: