Fresh rail strikes hit services across England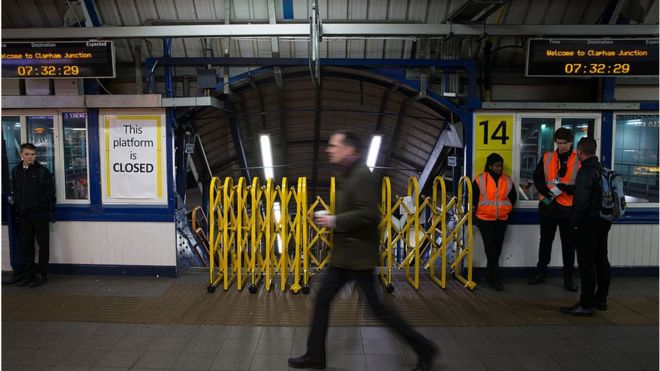 Image copyright
GETTY IMAGES
Rail strikes across England are under way for the second time this week.
RMT union members at Southern, Merseyrail, Arriva Rail North and Greater Anglia
have begun a 24-hour walkout.
The industrial action is over plans to make train doors driver-only operated.
Rail companies have said this means a guard is no longer needed
but some workers believe safety procedures would be compromised.
Union members at South Western have also voted to strike, but any action first needs to be agreed with the executive body.
The operator said it planned to increase numbers of drivers and guards and urged its staff to "avoid premature strike action".
The strikes have coincided with a planned closure of Liverpool Lime Street for refurbishment, something the boss of Merseyrail, Jan Chaudhry-van der Velde, said "doubled up the inconvenience".
Southern's passenger services director Angie Doll said: "The RMT is striking about changes we made almost a year ago as part of our modernisation programme.
"Nobody has lost their job over this, in fact we employ more on-board staff to help passengers than we did before, and we are providing a better service with fewer cancelled trains."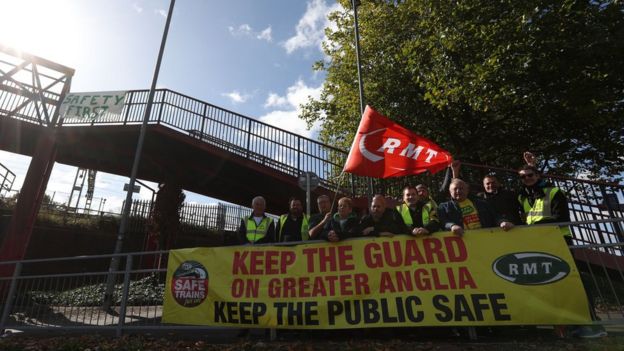 Image copyrightJONATHAN BRADY
Image caption
Northern Rail's regional director, Sharon Keith, said she wants to work with the unions.
"We're in the middle of a large modernisation agenda so we're investing in new trains [and] refurbished trains and what we want to do with our people is to modernise that role."
Greater Anglia will attempt to run a full service, saying "we have trained extra staff to safely cover for conductors who choose to take part in the strike action".
Some routes operated by Southern will not run, and others will be a "limited service" running only at peak times.
Arriva Rail North says it will run a reduced service, and warned passengers that the trains that do run are likely to be very busy.
Merseyrail is running reduced services and some stations will be closed.
Industrial action by London Underground drivers that would have coincided with the rail strike was called off following talks between management and the ASLEF union.
Similar Recent Posts by this Author: