Boris Johnson remains in hospital after 'comfortable night'
No 10 no longer describes coronavirus symptoms as mild and does not deny he had oxygen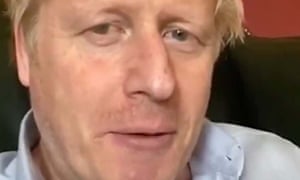 A screengrab taken from Boris Johnson's Twitter account of his latest message on the coronavirus outbreak. Photograph: Boris Johnson/PA Media
Boris Johnson is still in hospital suffering from coronavirus and had a "comfortable night" but No 10 has dropped the description of his symptoms as mild.
As the prime minister continues to be observed by doctors, Downing Street said it was too early to say whether he would be staying for another night and did not deny that he had been given oxygen treatment.
The prime minister's official spokesman said he was in St Thomas' hospital in south London and was in "good spirits", while continuing to work on his red box of government papers.
Asked whether Johnson had pneumonia, the spokesman said any change in his condition would be communicated to the public. He still has a cough and a temperature, more than 11 days after first reporting symptoms.
No 10 insisted it had been "transparent throughout" Johnson's illness, despite having described the prime minister's symptoms as mild right up until his hospital admission. Johnson himself only admitted to still having a temperature, not a cough, in his video message on Friday morning. No 10 has now changed its description of his symptoms to "persistent".
Two Tory ministers – Nadine Dorries and James Duddridge – have suggested Johnson needs to rest.
However, No 10 said he was taking advice from his doctors on whether it was safe for him to continue working and was still in touch with No 10 officials from his hospital bed.
Earlier, Robert Jenrick, the communities secretary, insisted Johnson was fit enough to lead the country from his hospital bed after he was admitted with persistent coronavirus symptoms.
Similar Recent Posts by this Author: