Bitter taste? 'Tax dodging' Coca-Cola buys Costa, Britain's largest coffee-shop chain, for £3.9bn
Published time: 31 Aug, 2018 12:15Edited time: 1 Sep, 2018 09:09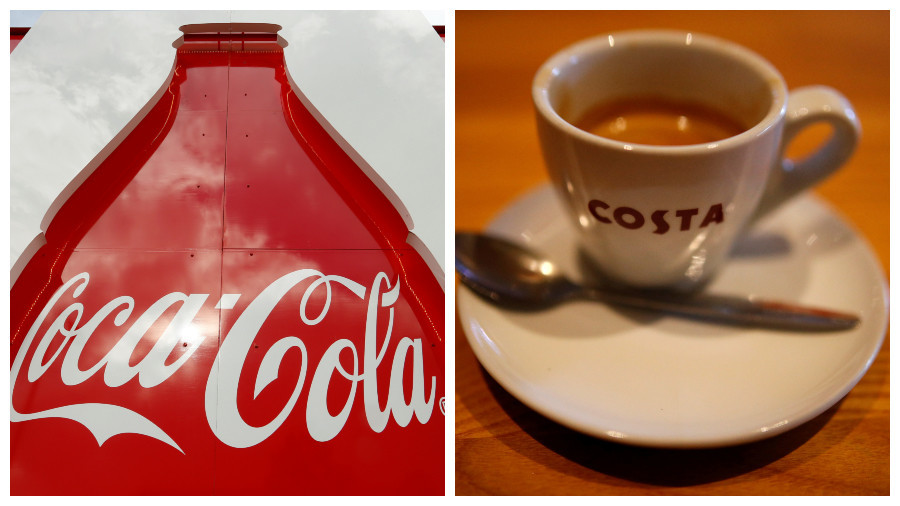 Coca-Cola has agreed to buy Costa Coffee, Britain's largest coffee-shop chain, from UK company Whitbread for a staggering £3.92 billion ($5.1 billion). It's "great news for shareholders," but critics say it's bad for Britain.
Director of the Institute for Public Policy Research Tom Kibasi claims the deal is "bad news for Britain," because "Coca-Cola is one of the world's worst tax dodgers and least ethical companies." Meanwhile, others on social media have alluded to a possible negative impact on local, independent coffee traders and the communities they serve.
Sky News Business Correspondent Adam Parsons has not been shy in voicing his displeasure at the takeover. He tweeted: "Whitbread will become smaller; its shareholders (led by a couple of noisy activists) will become richer; a big British high-street brand becomes American-owned. We all happy with that?"
Shares in Whitbread Plc have surged almost 20 percent on news of the deal on Friday, adding more than £1 billion ($1.3 billion) to the group's stock market value, as financial analysts said the price was markedly higher than expected.
Alison Brittain, Whitbread's chief executive, told BBC Radio 4's Today program that the agreement reached should be welcomed by her corporation's shareholders.
"This transaction is great news for shareholders as it recognizes the strategic value we have developed in the Costa brand and its international growth potential, and accelerates the realization of value for shareholders in cash," she said.
Whitbread, which was established in 1742 as a brewer, had been in the process of demerging Costa from another subsidiary it owns, the Premier Inn hotel chain, but said the Coca-Cola agreement offered a substantially higher price.
Brittain suggests that the deal could see Costa made as easily available as a can or bottle of Coke, saying: "They [Coca-Cola] want the coffee product, they have no coffee in their range. You could see Costa absolutely everywhere, in vending machines, hotels, restaurants, pubs, cafes – in all the places you see Coke today."
James Quincey, Coca-Cola's chief executive, said: "Costa gives Coca-Cola new capabilities and expertise in coffee, and our system can create opportunities to grow the Costa brand worldwide.
"Hot beverages is one of the few remaining segments of the total beverage landscape where Coca-Cola does not have a global brand. Costa gives us access to this market through a strong coffee platform."
Whitbread bought Costa in 1995 for £19 million ($24.5 million) from the chain's founders, brothers Sergio and Bruno Costa, when it had just 41 shops. The company now has over 2,400 outlets in Britain and is embarking on an overseas expansion
Similar Recent Posts by this Author: