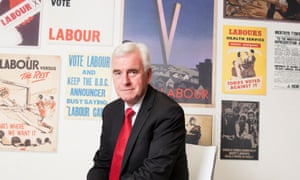 John McDonnell says he will deliver a fair tax system. Photograph: Karen Robinson for the Observer
Labour will aim to help tens of millions of people who are struggling on lower incomes
by cutting the rate of VAT if it wins the general election, the shadow chancellor John McDonnell has told the Observer.
The new pledge to use the proceeds of future growth to reduce VAT from its current 20% level came
as Theresa May and her senior ministers appeared to be at loggerheads
over the Conservatives' own tax policies,
adding to an impression that the Tories are suffering a bout of late campaign jitters
before polling day on Thursday.
As the parties prepared their final pitches amid signs that the polls continue to narrow,
a confident McDonnell reiterated his message that 95% of people would face
no rises in their income tax bills under a Labour government.
But in a high-stakes move, he went further, saying his priority would be to deliver
a "fair tax system" under which income tax rises for the highest earners would be followed
by VAT reductions for all, when economic growth allows.
Such a reduction, he said, would deliver the greatest proportionate benefits
to those on low and middle incomes.
"The concept of fairness is at the heart of everything we do," the shadow chancellor said.
"When it comes to tax it will always be a fair tax policy.
And if I can reduce the burden of taxation on middle and low earners
I will do it as we grow the economy. I will do it."
Asked what he had in mind, he added: "I think VAT is a real problem for many people.
When we come out of Europe there is more flexibility on VAT,
particularly in terms of the lower levels."
Similar Recent Posts by this Author: