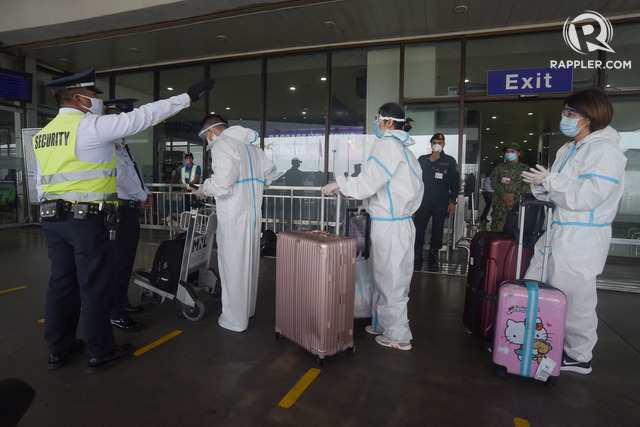 MANILA, Philippines (3rd UPDATE) – With no near end in sight to the coronavirus pandemic, countries continue to implement travel restrictions.
But the Department of Foreign Affairs (DFA) said a number of countries are already easing restrictions to allow some types of travelers to enter, such as those with work or residency permits.
Below is a list of travel restrictions still in place as of Sunday, July 5.
The new list reflects additional countries who have recently opened their borders such as the Bahamas, Egypt, Ethiopia, and United Arab Emirates. The DFA also said 138 countries now allow Filipinos to return to the Philippines, subject to flight availability and other special arrangements.
ASIA PACIFIC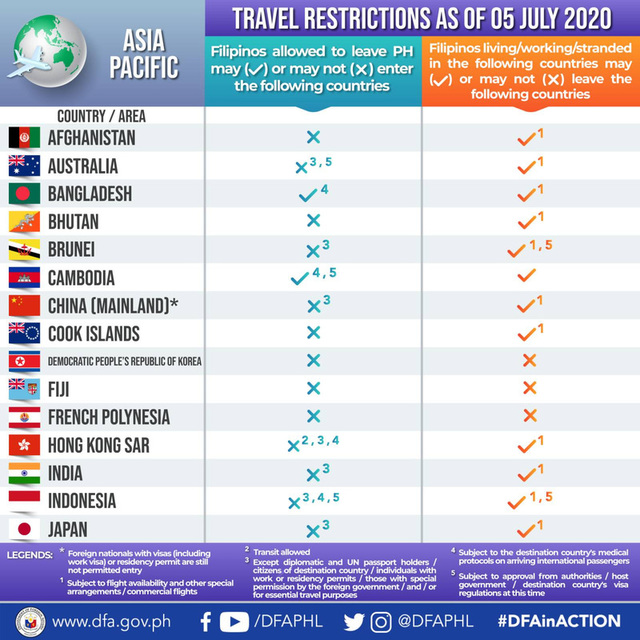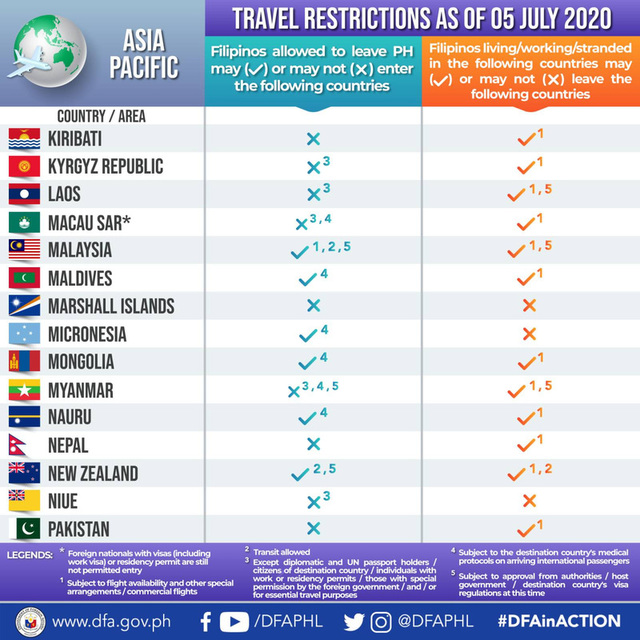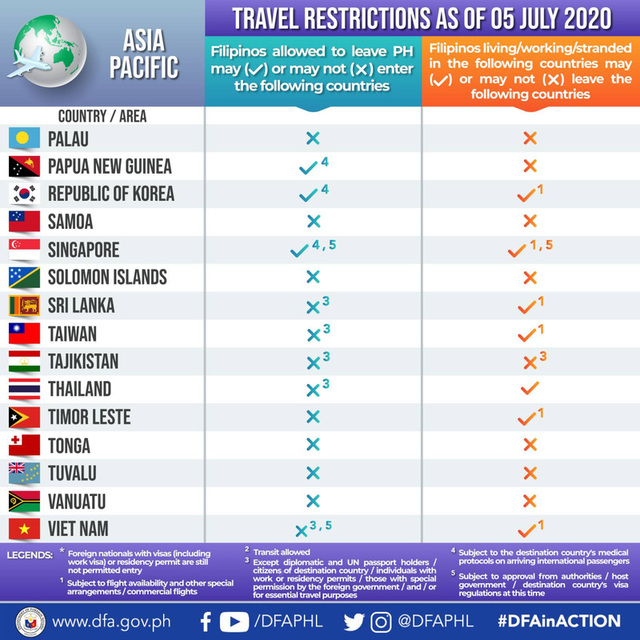 MIDDLE EAST AND AFRICA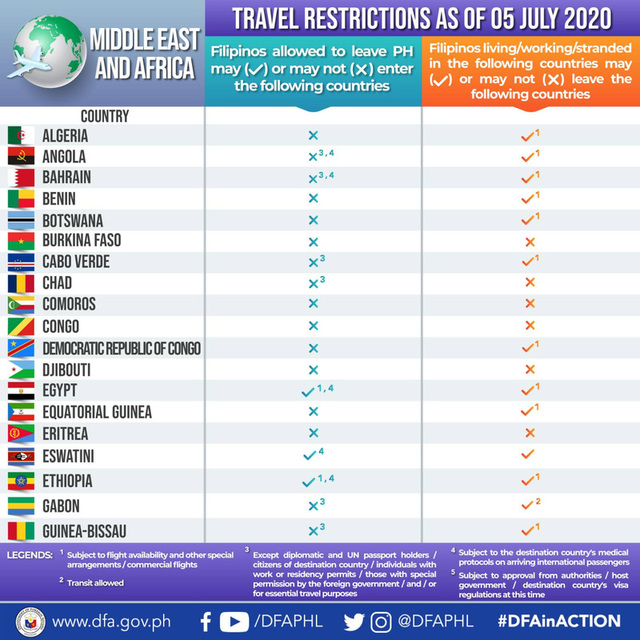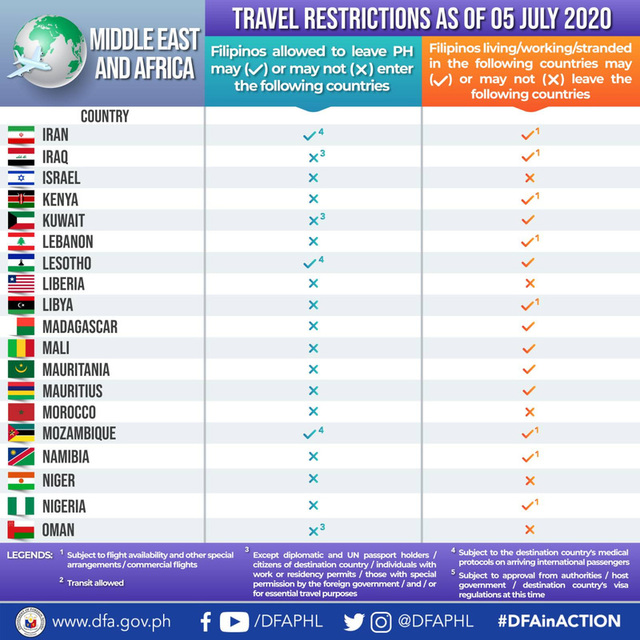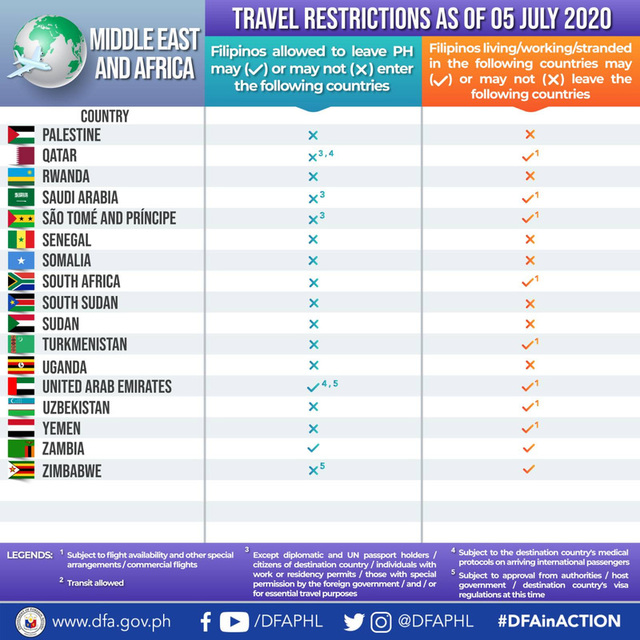 AMERICAS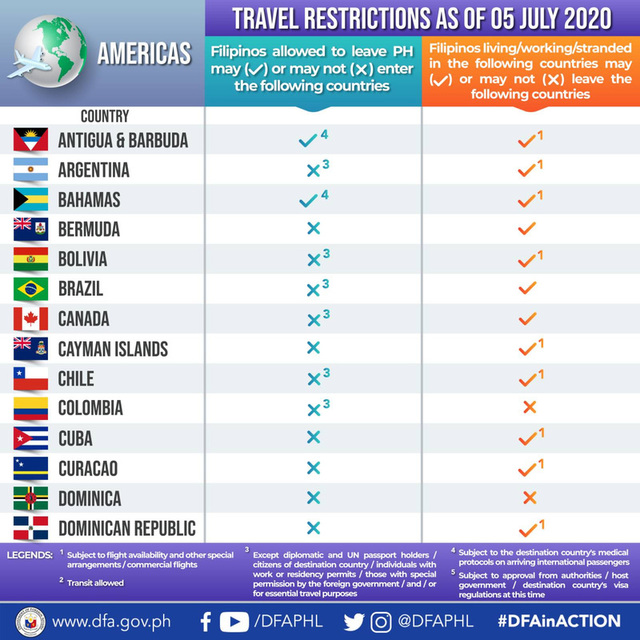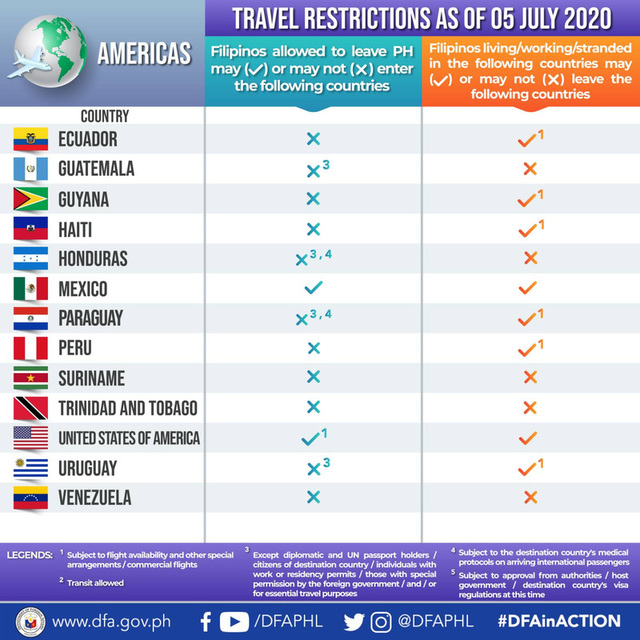 EUROPE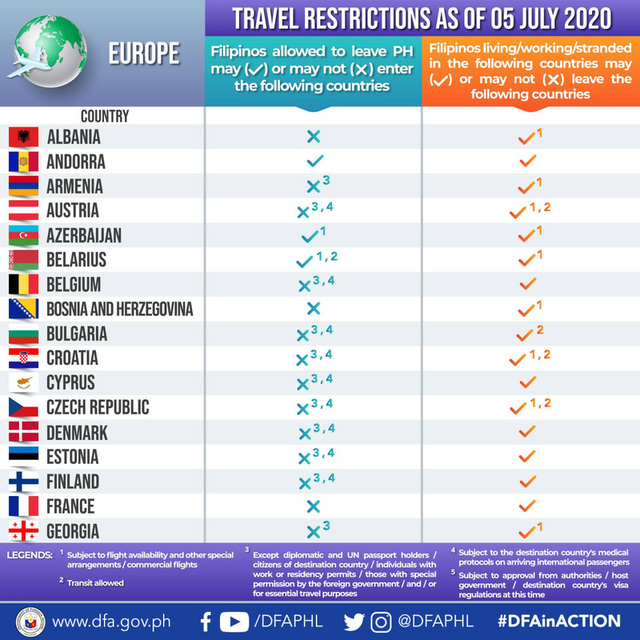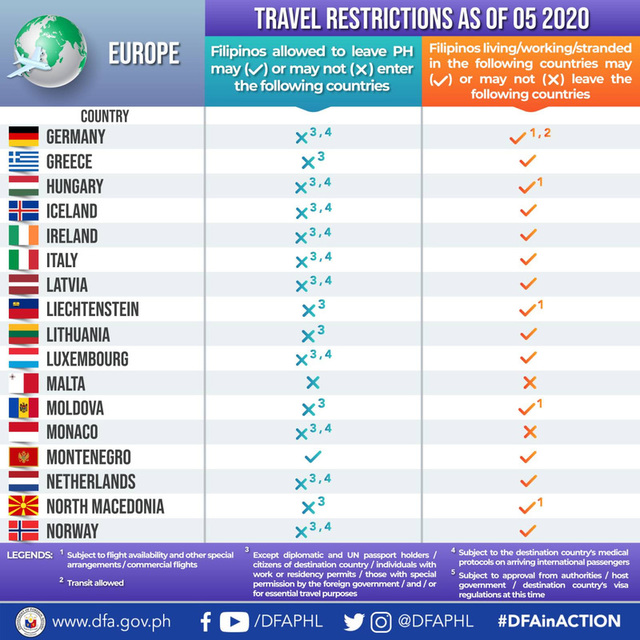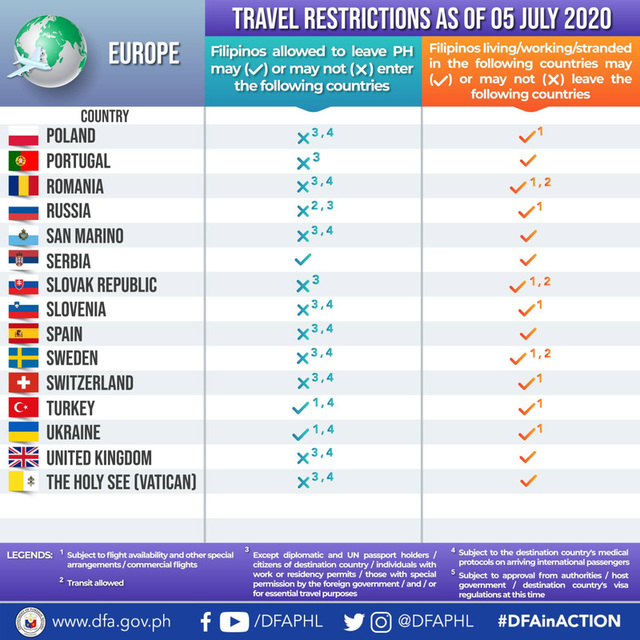 The DFA reminded Filipino travelers to consult embassies or consulates of their destination countries before booking tickets, even if they have valid visas.
The department also urged Filipinos to check with airlines for dates they intend to travel as flights remain limited.
The DFA reminded the public to take note that information on travel restrictions may change without prior notice.
Meanwhile, the Philippine government is still not allowing foreigners to enter the country, except for those holding visas issued to foreign government or international organization officials. Foreign spouses and children of Filipinos are also allowed to travel to the Philippines.– Rappler.com
Filipinos abroad with coronavirus now at 8,679
MANILA, Philippines – The number of coronavirus cases involving Filipinos abroad rose to 8,679, according to data from the Department of Foreign Affairs (DFA) on Sunday, July 5.
The latest figure is 50 cases higher than the total of 8,629 on Saturday, July 4.
The DFA also reported 14 new deaths, increasing the number of fatalities to 577.
Only one new recovery was reported, bringing the total number of Filipinos abroad who recovered from COVID-19 or have been discharged to 5,201.
At least 2,901 are still being treated.
Of the cases, 1,366 have been confirmed by the Philippine Department of Health, which tracks cases based on International Health Regulations from the World Health Organization.
Among countries, the Middle East reported the highest number of coronavirus cases with 6,304 patients. Meanwhile, 311 Filipinos have died in the region due to COVID-19.
According to the DFA, only 4 countries across 3 main geographic regions reported on Sunday, while no new reports were received from the Americas.
Cases involving Filipinos are spread across 62 countries with the following breakdown:
Asia-Pacific
17 countries included
Total: 663
Undergoing treatment: 127
Recovered or discharged from hospital: 532
Deaths: 4
Europe
16 countries included
Total: 1,015
Undergoing treatment: 472
Recovered or discharged from hospital: 449
Deaths: 94
Middle East and Africa
22 countries included
Total: 6,304
Undergoing treatment: 2,183
Recovered or discharged from hospital: 3,810
Deaths: 311
Americas
6 countries included
Total: 697
Undergoing treatment: 119
Recovered or discharged from hospital: 410
Deaths: 168
As of Sunday, there are at least 44,254 coronavirus cases in the Philippines, including 1,297 deaths and 11,942 recoveries.
Cases worldwide have reached at least 11,296,470, while the global death toll is at 530,865 in 196 countries and territories, as of Sunday. – Rappler.com
Similar Recent Posts by this Author: