Only half of UK's sickest coronavirus patients put on ventilators
Evidence grows that many Covid-19 patients do better with non-invasive help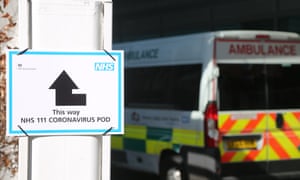 A sign pointing the way to a coronavirus unit at University College hospital in London Photograph: Anadolu Agency via Getty Images
Only about half of the sickest Covid-19 patients, admitted to intensive care struggling to breathe, are being put on mechanical ventilators, it has emerged, as evidence grows that many do better with non-invasive help.
The rush to increaase the number of ventilators in Britain from 8,000 to 18,000 was a response to early assumptions that intubation was the only way to save the lives of those who become severely ill. Industry was urged to switch production, and Dyson was among the companies volunteering to help, but it has now been told by the government its services are not needed.
This may now look like an over-reaction, but one leading intensive care expert said the government had little choice. The Imperial College modelling prediction of 250,000 UK deaths was based partly on a shortfall in the number of ventilators in the NHS.
"It is easy in retrospect," said Mervyn Singer, a professor of intensive care medicine at University College London. "Governments had to prepare for the worst and hope for the best. The truth is usually somewhere in the middle."
Singer talked to colleagues in China and in Italy about their experiences before the UK's intensive care units started to fill up. "We started off with a strategy to try to avoid intubation," he said.
The alternatives to mechanical ventilation include continuous positive airway pressure (Cpap). Cpap machines are a type of ventilator that uses a mask but delivers air at mild pressure without taking over the function of the lungs. It is believed Boris Johnson was treated with Cpap.
Similar Recent Posts by this Author: