Released in November, it warned that spending tens of millions of pounds on security around key French ports had caused an increase in numbers trying to cross the Channel in small boats.
"A policy that focuses exclusively on closing borders will drive migrants to take more dangerous routes, and push them into the hands of criminal groups," the report said.
Read more
"In the absence of robust and accessible legal routes for seeking asylum in the UK, those with a claim are left with little choice but to make dangerous journeys by land and sea."
On Monday, Ms Patel vowed to make crossings "unviable" and the prime minister called the journeys "very bad, stupid, dangerous and criminal".
More than 4,000 migrants have crossed the English Channel in small boats so far this year, including at least 600 in recent days.
Chris Bryant, a Labour member of the Foreign Affairs Committee, told The Independent the influx "wasn't only predictable, but we predicted it".
He said that increased security at ferry ports and the Channel Tunnel had driven greater numbers of migrants to attempt small boat crossings, and the trend had worsened amid a fall in lorry traffic during the coronavirus pandemic.
"This government is dominated by people who are obsessed by what they think are the pull factors of migration to the UK," Mr Bryant said.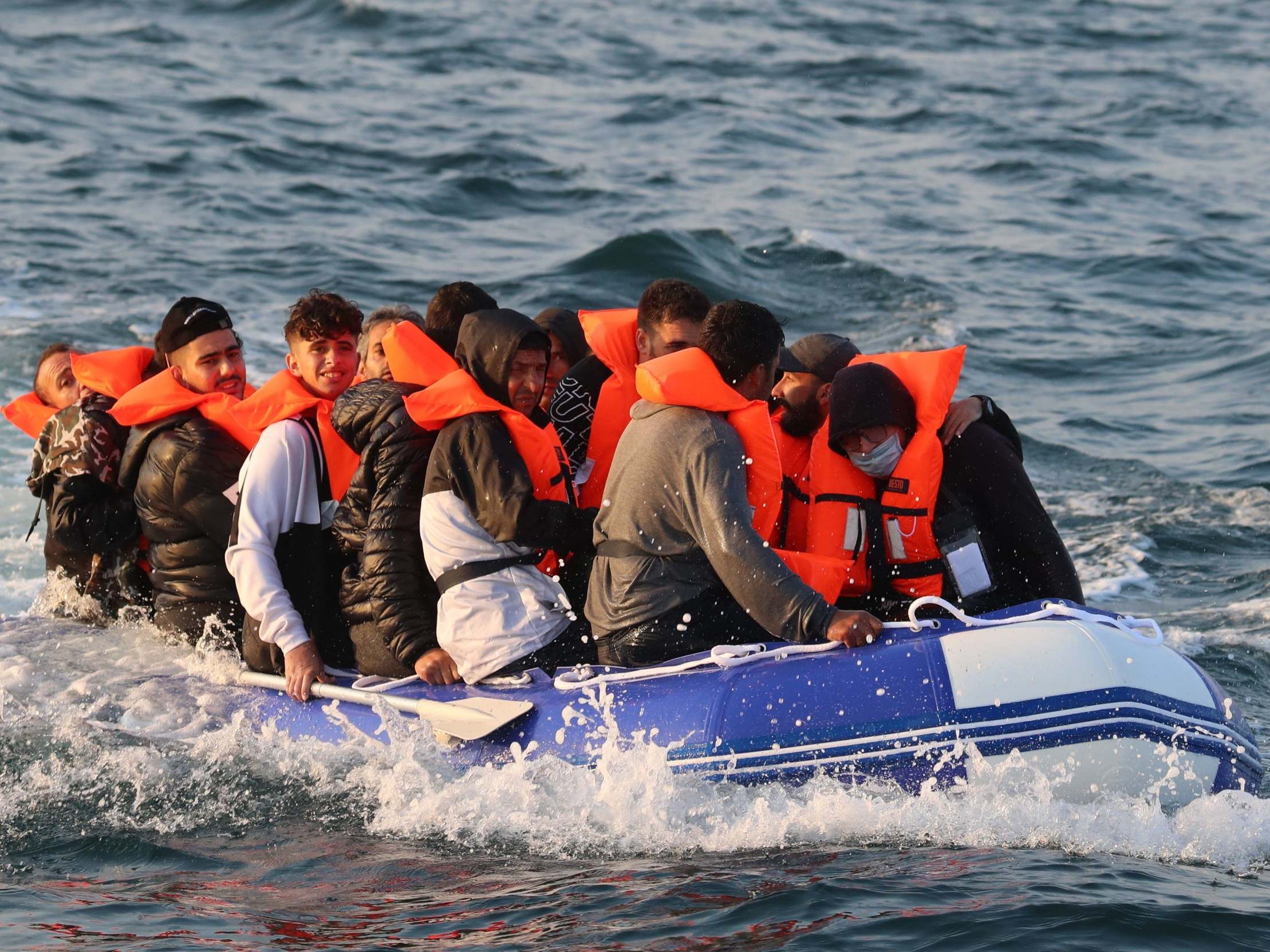 https://static.independent.co.uk/s3fs-
"The push factors are just as important – war, famine, disease, social upheaval, these are the things that lead people to leave their own homes and that's why you need a holistic approach and to sit down with other countries."
Mr Bryant said measures previously billed as "clamp-downs" had been "notoriously ineffective".
Speaking on Monday, Boris Johnson claimed the problem was that "there are people who want to come from around the world to this country because obviously it's a great place to be".
The prime minister was accused of using inflammatory language after calling migrant boat crossings a "very bad and stupid and dangerous and criminal thing to do".
Read more
He said the government wanted to "look at the legal framework that means that when people do get here, it is very, very difficult to then send them away again".
Downing Street said Brexit would allow the UK to draw up a new framework for dealing with migrants outside the "inflexible and rigid" Dublin regulation.
The UK has already made hundreds of deportation requests under the law, which requires asylum seekers to claim asylum in the first safe country they arrive in.
As more asylum seekers were taken ashore on Monday, Ms Patel visited Dover to view Border Force operations to deal with what she called an "unacceptable number of illegal small boat crossings".
"I am absolutely committed to making this incredibly dangerous route unviable," she added.
The ministry of defence deployed a surveillance aircraft to the Channel amid discussions over the potential use of warships, and a former royal marine has been made "clandestine channel threat commander".
It came as Chris Philp, home office minister, prepared to meet French authorities in Paris "to strengthen cooperation".
British representatives stopped attending a key EU forum for discussing migration last year, and the Foreign Affairs Committee called for the government to "urgently resume" its presence at the table.
Last month, the UK and France launched a new intelligence-sharing unit intended to crack down on traffickers who facilitate migrant boat crossings.
Read more
Ms Patel and her French counterpart Gerald Darmanin stressed their "shared commitment to returning boats in the Channel to France, rather than allowing them to reach the UK".
Hundreds of millions of pounds have been spent in the last 10 years on bilateral arrangements, including the 2018 Sandhurst treaty.
A "joint action plan" saw the UK pay £6m for increased security along the French coast, including beach patrols and drones.
Pierre-Henri Dumont, who represents Calais in France's National Assembly, told BBC Radio 4's Today programme that local authorities were "already trying to do whatever we can".
"If you've got dozens of crossings a day, that's very difficult for us to stop," he added.
"It only takes five minutes to have a small boat at sea full with migrants, with a coast of 300km to monitor."
Mr Dumont said he believed deploying royal navy ships "won't change anything" and called the move a "political measure".
Hundreds evicted from French refugee camp amid Channel crossings rise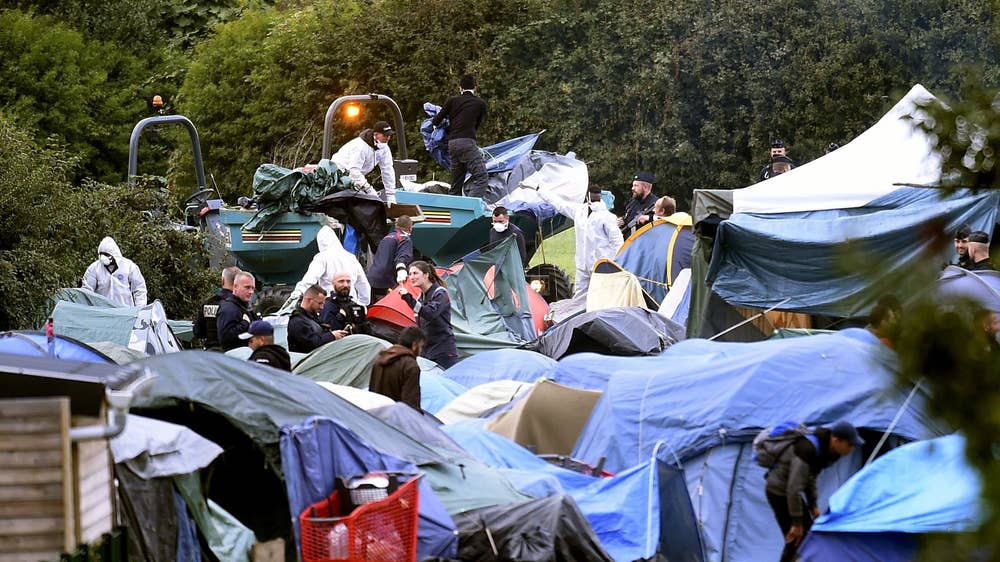 He warned that it would be dangerous to try to intimidate or forcibly move migrant boats, and cautioned against entering French territorial waters without permission.
The Home Affairs Committee has launched a new inquiry to examine the reasons behind a surge in crossings since 2018.
It said MPs would look at the role of criminal gangs and "the response of UK and French authorities to combating illegal migration and supporting legal routes to asylum".
Minnie Rahman, from the Joint Council for the Welfare of Immigrants, said: "Those forced to make dangerous journeys across the Channel are doing so because they simply have no other options. No one would risk their life on a crowded dinghy unless their future depended on it.
"If the government were serious about tackling trafficking, and resolving this situation once and for all, it would open up safe and legal routes of entry to the UK."
Lisa Doyle, the Refugee Council's director of advocacy, said: "Seeking asylum is not a crime, and it is legitimate that people have to cross borders to do so."
Similar Recent Posts by this Author: