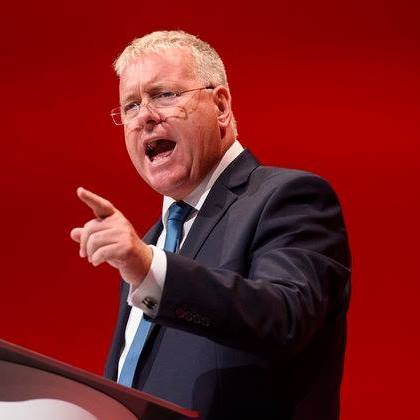 https://labourlist.org/wp-content/uploads/2017/05/Ian-Lavery-1-150×150.jpg 150w, https://labourlist.org/wp-content/uploads/2017/05/Ian-Lavery-1-144×144.jpg 144w, https://labourlist.org/wp-content/uploads/2017/05/Ian-Lavery-1-40×40.jpg 40w" sizes="(max-width: 337px) 100vw, 337px" style="margin: 0px auto; padding: 0px; border: 0px; display: block; max-width: 960px;">
Below is the full speech given by Ian Lavery, Labour Party chair, at Labour conference 2018 today.
Good morning Conference. It is an absolute privilege for me as chair of our party to address you all in this fantastic Labour City of Liverpool. Colleagues in 2015 the party took a different direction. Back then Jeremy Corbyn pledged to open up the party and empower our membership to make positive changes in their communities and in our country.
Colleagues, following a few minor distractions, The EU referendum, General Election and Leadership election to name but a few this democracy review began in November 2017. It is important to realise how significant and indeed symbolic simply having a review of this nature has been. It has been one of the largest projects into Labour Party Democracy ever undertaken. And I'd like to place on record my thanks to Katy Clark for her hard work in conducting this review.
At the closing date 11,425 submissions had been received from CLPs, branches, other party organisations, trade unions, socialist societies and individual Labour Party members. Many of the submissions were the result of much detailed discussion in CLPs and union branches the length and breadth of the country. A huge amount of time and commitment has been expended in this review from Labour Party members and trade unionists.
And there are some very clear, positive messages. Members want more transparency, more accountability and a more responsive structure. Members want the party to open up to the wider community to build a mass movement for change which will take us into power. And both members and affiliates recognised the strength that comes from the trade unions that founded our party, and whose millions of affiliated members have been the bedrock ever since.
Colleagues, in order to ensure that our vision for a Britain that works for the many and not the few, becomes a reality, it is essential that our party structures and rules are fit for the future.
Colleagues this will need compromise and patience in abundance, we need to keep our eyes on the big picture – the ultimate objective of winning the next election.
Rapid technological advances and an ever growing membership mean it is now more important than ever that we take stock of where we are as a party. And to use this to empower our members to make positive changes in their communities.
It's also important to recognise and understand that as a party, with more than half a million members brimming with ideas, it has been impossible to deal with every suggestion or indeed to fully satisfy everyone.
But today's debate is just the beginning of a process to transform our Party.
We have specific rule changes on some parts of the Review which are being debated today. Including increasing the members and Trade Union participation in the nomination process of electing the Leader and Deputy Leader of the Party and the process for the selection of individual members of Parliament.
A charter of members rights;
to support members who dedicate their lives to building our Party up and down the country;
to radically reform Structures for our Black, Asian and Minority ethnic members and disabled members;
to create a new disabled members seat on the NEC and on the Conference Arrangements Committee;
to create a new women's structure at national and regional level;
for new, members led, structures at regional level;
to have by-elections for vacant NEC places;
to open up Annual Conference by removing the contemporary motion criteria and increasing the number of debates which are scheduled to take place each year.
But as the biggest political party in Western Europe it is imperative we leave no stone unturned. The democracy review report is full of great feedback and well thought out ideas which come from you our members. And whilst we debate specific rule changes today, we must resolve to ensure the work that has gone into the review and is not included here, is not lost.
Our members want to transform our party to build an unstoppable movement for change. A democratic, members led Party working hand in hand with the Trade Union Movement. The Party which Jeremy argued for when he stood to be Leader. And colleagues we must deliver it.
The ideas that will change the world lie amongst our members and within our millions of Trade Union affiliates. We have a duty to ensure these ideas do not remain locked away because of antiquated, inflexible structures that stifle debate and stage manage party process.
That's why the NEC produced a statement committing to the implementation of ideas not requiring changes to the current rules. But we have responsibilities too.
As a mass membership party there are those who hold passionate views on a wide range of issues. We should debate robustly but always respectfully. And always remember that our party has always been at its best when members and affiliates work together in pursuit of a fairer Britain.
Conference, these recommendations are simply the beginning. We've been set a task by you, our members and we have a duty to build the transformative Labour Party that will take us to power.
Labour we're a Government in waiting, and only with that strong bond of solidarity and unity can we take those keys to No10.
As the old trade union banners proudly proclaim, the past we inherit, the future we build. Unity is strength. Let's grasp this opportunity and seek to fulfil our collective vision of a party whose very reason for existence is a nation of hope, aspiration, equality, justice and fairness for the many, not the few.
Similar Recent Posts by this Author: