Coronavirus: Study reveals alarming impact of Covid on care home sector
One nurse tells study: 'We were under constant pressure to admit people who were Covid positive'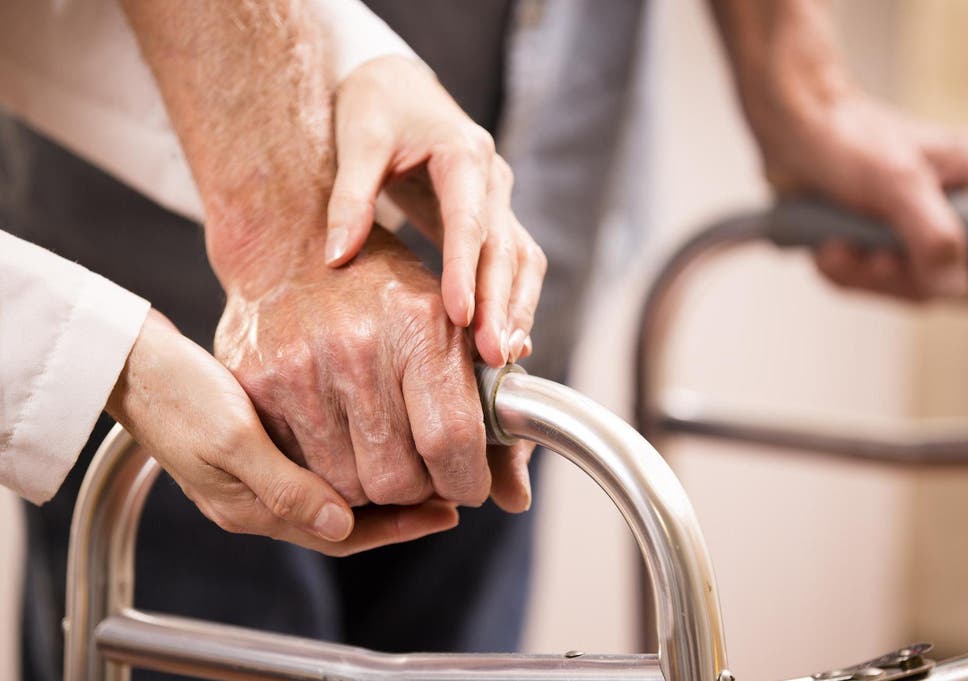 Nursing homes were put under "constant" pressure to accept patients with coronavirus while being regularly refused treatment from hospitals and GPs for residents who became ill at the height of the Covid crisis, a landmark study has revealed.
The Queen's Nursing Institute said homes were told hospitals had blanket "no admissions" policies during April and May while GPs and local managers imposed unlawful do not resuscitate orders on residents.
The findings have emerged in a survey by the QNI, the world's oldest nursing charity, which surveyed 163 care home nurses and managers working across the country.
Carried out between May and June this year, the study establishes an evidence base of the impact on the sector from coronavirus, in addition to the official figures showing care home death rates.
It found that 70 nursing homes, 43 per cent, received patients discharged from hospitals whose Covid-19 status was unknown during March and April.
A fifth of care homes said they received a patient from hospital who was positive for coronavirus.
One nurse said they were under "constant pressure to admit people who were Covid positive" while another said: "The acute sector pushed us to take untested admissions. The two weeks of daily deaths during an outbreak were possibly the two worst weeks of my 35-year nursing career."
How coronavirus lockdowns changed the world's most polluted cities
Show all 6
In one case a seriously ill patient with complex needs was discharged by a hospital despite the care home warning it was not capable of looking after the patient. The hospital sent the patient in an ambulance regardless.
One in four homes said it was difficult to get hospital treatment for patients while a third reported problems accessing GPs and district nurses.
Staff described the toll on their mental and physical health as a result of the workload with some feeling abandoned and ignored by the rest of the health system.
Although two-thirds of care home staff said they always had access to protective clothing such as masks and aprons, others were not given proper protection and some reported buying their own or making it themselves.
Staff responding to the survey revealed the use of blanket do not attempt resuscitation (DNAR) decisions by GPs, hospitals and NHS managers.
One nurse said: "We were asked to change the status of all our residents to do not resuscitate and not for escalation to hospital. We refused."
Another added: "All residents with suspected or confirmed Covid-19 were automatically made DNAR and given emergency health-care plans to stay in the home."
Another said they challenged an instruction by local NHS managers to impose a DNAR on all residents as "unethical".
In total, 16 homes reported examples of poor end-of-life care and four-fifths of the nurses reported negative experiences of working in the pandemic with more than half, 56 per cent, saying their physical and mental health had suffered.
Watch more
Professor Alison Leary, an author of the study, said: "It is clear from this survey that the care home workforce has faced very challenging issues. Many have felt unsupported and their wellbeing has suffered. We need to support this workforce to face the challenges ahead."
Crystal Oldman, chief executive of the Queen's Nursing Institute, said the findings of the survey and the lack of support and access to health services were "symbolic" of how the care home sector was viewed by those in the NHS and government.
"The care being delivered in a home can at times be as intensive as in a hospital – in particular for end-of-life care – and it is hugely skilled work."
She said she was concerned to see homes had struggled to access district nursing, GP and hospital services.
"We were really surprised to see this. These are universal health services. It is completely opposite to the protective ring around care homes that was being talked about at the time."
With winter approaching, she said it was now vital the sector was involved in planning ahead of any second wave of coronavirus.
"These homes need to be equal partners, not abandoned and not have things done to them.
"If anything positive comes from what we have been through it's that care homes cannot be viewed in that way again. It is everyone's problem."
Between 2 March and 12 June almost one in every three deaths among care home residents (29.3 per cent) involved Covid-19, with 19,394 people dying having tested positive for the virus, according to the latest data from the Office for National Statistics.
Of those deaths, the majority occurred in a care home setting – with 74.9 per cent taking place in care homes compared to the 24.8 per cent of fatalities which were recorded in hospitals.
Across the period the virus became the leading cause of death in male care home residents, and the second among women after dementia and Alzheimer's disease.
'They were dying and there was nothing we could do'
Anita Astle, managing director at the Wren Hall nursing home in Nottingham, told The Independent her staff were forced to work without any support from the wider health system and described feeling "despair" as almost two dozen of the residents in the home died from the virus.
The nurse with 30 years of experience said: "There was a total lack of understanding about how intensive it was and how seriously ill people were as well as the emotional and physical strain on staff.
"We were losing people we cared about, people who were part of our family. They were dying and there was nothing we could do about it."
In total, 23 residents died as a result of coronavirus, 13 longer-term residents and 10 who were admitted to the home with Covid-19.
"It was the hardest period of my career," said Ms Astle, adding: "I was broken at the lowest point."
Read more
In one example of the pressure the home was put under, she described how a Covid-19 patient with a tracheostomy was discharged from hospital to the home at the beginning of May, despite the home lacking the protective equipment to look after him.
"I told the hospital we didn't have the equipment to care for him appropriately in the morning and that they needed to hold off.
"The next thing we knew he was on his way in an ambulance. Every care home came under pressure to take patients. That was what we were told."
She said it took seven weeks just to get staff masks properly tested to ensure they were safe.
"We had no proper support until the end of May."
As the country prepares to head into winter and the threat of flu and Covid-19 grows, Ms Astle warned: "We need to recognise nursing home nursing is a speciality. It is complex care. People tend to think it is wiping bums and little else but it's so much more.
"The lessons need to have been learned and I don't think they have been. Instead, there seems to be a lot of blame going on."
Similar Recent Posts by this Author: