NHS patients face long wait to see doctor as GP shortage starts to bite
Delays of at least a week expected on 67m occasions this year as research shows large areas of England need 50% more GPs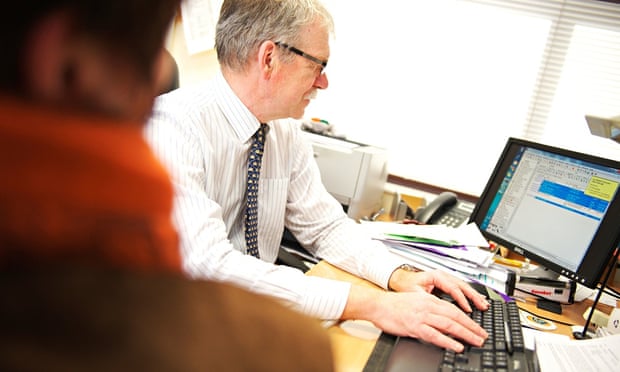 A chronic shortage of doctors and an ageing population are putting increasing pressure on GPs' surgeries. Photograph: Alamy
Patients will have to wait for at least a week to see their doctor a record 67 million times this year, family GPs are warning. The Royal College of General Practitioners estimates the number will be significantly up on last year's total of 62.4 million.
The college blames a shortage of GPs at the same time as patient demand for consultations has been rising due to the ageing and growing population.
An RCGP analysis of NHS England's recent GP Patient Survey concludes that 2015 will see the fourth successive sharp year-on-year rise in delays. It calculates that patients will seek 370 million GP appointments this year, about 150,000 a day more than in 2010, and that population growth and the ongoing rise in the number of people with long-term conditions will see that continue to rise.
However, separateRCGP research shows that many parts of England are experiencing severe shortages of family doctors. For example, Bexley in south London will need 87% more by 2020 in order to keep up with the expected growing demand for appointments.
Redbridge in east London will need an 85% rise, while Swale in Kent will have to boost the number of GPs by 74% by 2020 to avoid patients facing even longer waits for care, the RCGP says. England needs another 8,000 GPs by then to ensure timely access, it adds.
In all, 16 parts of England, notably parts of Kent, Yorkshire, Essex, Berkshire and the Midlands, will all need to hire at least 50% more GPs over the next five years. The RCGP's figures are based on the existing number of GPs and local forecast population growth.
Nene NHS clinical commissioning group (CCG) in Northamptonshire will need to hire the most – 165 more – followed by CCGs in Cambridgeshire, Peterborough (132), East and North Hertfordshire (126), Birmingham Crosscity (122) and West Kent (114).
David Cameron recently pledged to "build up our primary care system to make it easier for people to access their GP". But Labour claims that he has made it harder to see a GP and so contributed to the unprecedented strain on A&E, and has pledged to restore patients' right to see a family doctor within 48 hours, a change GPs strongly oppose.
Similar Recent Posts by this Author: