Green Homes Grant: What is it?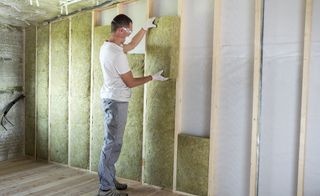 (Image credit: Getty Images)
The Green Homes Grant was introduced in July 2020 by chancellor Rishi Sunak to help homeowners make their homes more energy efficient. It is set to launch in September 2020.
The announcement of the Green Homes Grant followed a fraught spring for the UK economy, which contracted by 25% amid the coronavirus pandemic.
The Green Homes Grant was one of the major updates in the government's Summer Statement — laying the foundations for a green recovery. Once launched, the government will pay two-thirds of energy-efficient home improvements up to £5,000.
As well as planning to create thousands of new jobs, the government believes the scheme will help the UK meet its 2020 target of achieving net zero carbon emissions. Here's what we know so far.
What is the Green Homes Grant?
The Green Homes Grant scheme will provide £2bn for projects such as ensuring houses are properly insulated. This is part of a wider £3bn plan to cut carbon emissions.
The grants will be provided in the form of vouchers which can be used towards making energy-efficient improvements to homes.
The Treasury claims that utilising these vouchers could save families up to £300 a year on energy bills, although it is not clear how this has been calculated. Sunak confirmed that the average annual saving will likely be in the region of £200.
How Does the Green Homes Grant Work?
In order to obtain a voucher, homeowners will have to make an online application for recommended energy efficiency measures, with details forwarded to accredited local suppliers.
Once one of the suppliers has issued a quote, and the requested work has been approved, then the government will issue the voucher towards the work.
Who Can Apply for the Vouchers?
The chancellor revealed that both homeowners and landlords would be eligible in his statement, but we await further details. The chancellor confirmed that up to 650,000 homes will be covered by the grant.
How Much are the Vouchers Worth?
Under the scheme, the government will pay at least two-thirds of the cost of home improvements that save energy, up to £5,000.
For example, if you were to have a new, more energy-efficient boiler installed for around £2,000, then the government would contribute around £1,333 and the homeowner would pay around £666.
The poorest households will be eligible to receive up to £10,000 towards these improvements. And these poorest homeowners will not have to contribute anything to the cost.
What Does the Green Homes Grant Cover?
Homeowners will be able to spend these vouchers on a myriad of improvements, including:
When Will the Grant be Available?
Applications for the scheme will open in early September 2020.
How Can I Claim Green Homes Grant Vouchers?
From September, it will be possible to apply for the grant online. We'll be updating this page as further details become available.
What Else Should I Consider?
While the vouchers will provide a much-needed boost for low-income households, the £5,000 cap – or £10,000 for the poorest homeowners – may not be enough for certain energy efficiency improvements to be made.
For example, external wall insulation on a three-bedroom house is likely to cost in the region of £10,000, while a larger detached home will cost £8,000-£15,000. Vouchers up to the value of £5,000 will not cover two-thirds of the costs in these instances.
Architect Paul Testa from Paul Testa Architecture and contributor to Homebuilding & Renovating magazine, said: "The scheme is going to be great for really poor households, who will be able to get a boiler replacement or cheap double glazing, and this will provide immediate relief. But all this will do is lock in poor performance for longer. It's forcing people to go down the cheapest route".
Reaction to the Green Homes Grant
KEEP UP TO DATE
Follow the latest news on the Green Homes Grant by signing up to our newsletter and following us on Twitter.
News of the Green Homes Grant scheme was welcomed by business groups and industry leaders alike.
Brian Berry, chief executive of the Federation of Master Builders (FMB), said: "This is very good news, signalling both an important step towards building back better and greener, and a vote of confidence for local builders up and down the country."
However, industry experts fear the scheme could yet exacerbate the problems facing households if the work is not undertaken correctly.
David Hilton, director of Heat and Energy Ltd and contributor to Homebuilding & Renovating, agrees that while the scheme could prove significant for some households, it could yet prove problematic.
"I welcome the move and anything that supports homeowners to make their homes energy efficient is of course a good thing," said Hilton. "However, knee-jerk reactions can be problematic, and these vouchers might not have a lasting effect if the scheme is not rolled out properly.
"For example, I've seen problems with poorly fitted insulation. If you therefore use these vouchers to install internal insulation but you do not fix external problems, then it will not have a lasting effect. And who will ensure this is done properly?"
Details are sparse as to how the scheme will be regulated, and Mike Fairman, CEO of Checkatrade, agrees that it will be essential to hire only experienced and vetted traders to carry out home improvement projects.
"We welcome this move from the government to help bolster the trade economy, through the promotion of energy saving home improvements. However, homeowners should be wary of cowboy builders and traders who don't have adequate experience, who will be looking to profit off this initiative," said Fairman.
Get updates from all sorts of things that matter to you
Similar Recent Posts by this Author: