US public health officials are calling on drugmakers to release detailed information on the side effects of their coronavirus vaccines after participants in trials complained of high fever, body aches, headaches and exhaustion.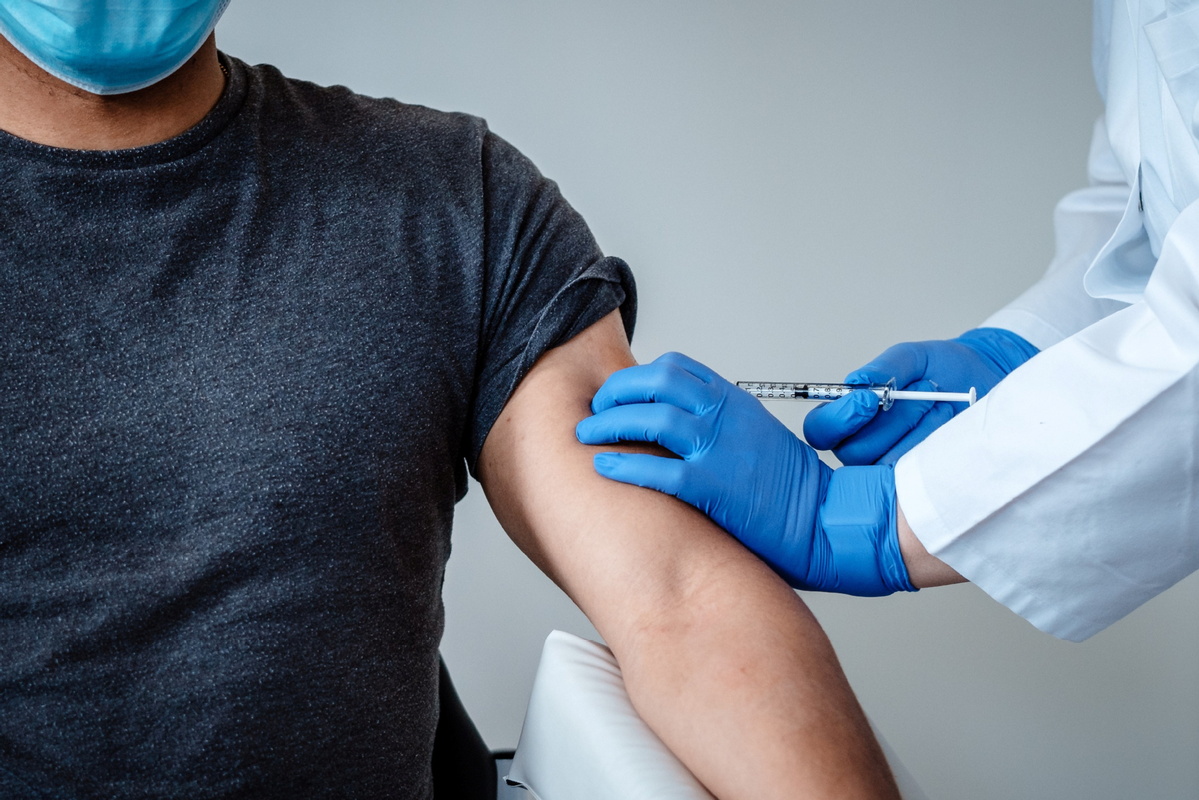 A person gets a dose of the coronavirus disease (COVID-19) vaccination of BioNTech and Pfizer in this undated handout photo, as Britain became the first western country to approve a COVID-19 vaccine, in Mainz, Germany. [Photo/Agencies]
By BELINDA ROBINSON in New York | chinadaily.com.cn | Updated: 2020-12-04 12:32
Dr Sandra Fryhofer of the American Medical Association fears that as both Pfizer's and Moderna's vaccines need to be taken in two separate doses that if people have severe side effects with the first shot, that could deter them from getting the second one.
"We really need to make patients aware that this is not going to be a walk in the park," Fryhofer said at an online meeting with the Advisory Committee on Immunization Practices (ACIP), a group of medical experts that advise the Centers for Disease Control and Prevention (CDC).
"They are going to know they had a vaccine. They are probably not going to feel wonderful. But they've got to come back for that second dose."
Three companies, Pfizer/BioNTech, AstraZeneca/Oxford and Moderna have developed COVID-19 vaccines with more that 90 percent efficacy. All are seeking approval for emergency use by the US Food and Drug Administration.
On Dec 2, Pfizer's vaccine was approved for use in the UK, the first approval in a Western country.
Participants in Moderna's and Pfizer's coronavirus vaccine trials experienced side effects that cleared up in a day or more.
A 30-year-old woman, who didn't want to be named but who is taking part in trials for AstraZeneca's COVID-19 vaccine at the New York Blood Center, said she experienced several adverse symptoms.
"I had body aches, fatigue and a headache. I also experienced mild pain and soreness at the injection site. I experienced symptoms approximately 12 hours after I received the injection. The body aches and headache were alleviated by taking ibuprofen. I would say the symptoms lasted about 12 hours. Soreness at the injection site lasted about 24 hours," she told China Daily.
A nurse checked her vital signs, did a physical examination and asked about her medical history before giving her the initial injection. She will visit the same center for a second shot in four weeks although she doesn't know if she was given a placebo or the vaccine. In trials, half the people are given the vaccine and the other half a placebo.
She added: "I was made aware of exactly what to do in the event that I experienced more serious side effects (for example, shortness of breath or fever). The side effects I experienced, while uncomfortable, were mild and nothing beyond what one might expect during a mild case of the flu. I've never had the flu, or body aches and general fatigue, so I was caught a little off-guard."
All of the vaccine makers have said patients could experience mild coronavirus symptoms. But doctors want them to explain further how it could affect different patients.
Luke Hutchison, 43, a computational biologist volunteered for a trial of Moderna's COVID-19 vaccine. After he got the second injection, his arm swelled up.
He also experienced bone and muscle aches, a 102-degree F fever (38.9 C), shaking and cold and hot flushes. While his symptoms went away in 12 hours, he told the journal Science: "Nobody prepared me for the severity of this."
Dr Grace Lee, professor of pediatrics at the Stanford University School of Medicine, suggests that some people who get the jab could miss work.
Lee, a member of ACIP, told the Centers for Disease Control and Prevention (CDC): "If they have to miss 14 days of work, that's a huge amount to miss. I think we do have to think about the vaccine itself. While there may be some short-term work loss issues, I do think that has to be balanced with the risk of getting an infection."
Dr Nancy Messonnier, director of the CDC's National Center for Immunization and Respiratory Diseases, said that the agency is producing guidelines for healthcare workers who may take the vaccine and need a day or two off to recover.
Pfizer's vaccine, the fastest ever produced, took 10 months to develop. Similar vaccines usually take a decade.
The speed with which the vaccine was developed has sparked concern from anti-vaccine groups.
Jonathan Berman, a scientist and assistant professor in the basic sciences department at the New York Institute of College of Osteopathic Medicine at Arkansas State University, wrote a book called Anti-vaxxers, How to Challenge a Misinformed Movement.
He believes that people need to be well informed about all aspects of the vaccines; if not, they may fall prey to conspiracy theories.
Berman told China Daily: "The best way to convince them would be for governments and manufacturers to launch a vaccine confidence project to work in communities around the world to build confidence. In the absence of such a project, the main sources of information that people will have will be unofficial and misinformation."
Similar Recent Posts by this Author: