People will have to live with coronavirus for 'evermore,' says UK expert on govt's advisory committee
21 Oct, 2020 12:19

/ Updated 8 hours ago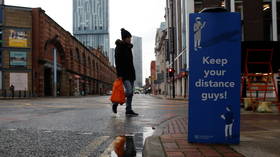 John Edmunds, a British epidemiologist on the government's Covid-19 advisory committee, warned UK lawmakers that there is very little chance of the coronavirus being eliminated. He said vaccines could slow its spread, however.
"We are going to have to live with this virus for evermore. There is very little chance that it's going to become eradicated," Edmunds, a member of Scientific Advisory Group for Emergencies (SAGE), said on Wednesday. He pointed out that the prospect of a vaccine towards the end of the winter could help the government's efforts. "If vaccines are just around the corner then, in my view, we should try and keep the incidence as low as we can now," he said.
——————————————————————————–
Human viruses and associated pathologies
The table below displays the list of human viral pathogens, with transmission and general facts about associated pathologies.
Virus

Genus, Family

Host

Transmission

Disease

genome

Proteome

Adeno-associated virus
Dependovirus,
Parvoviridae
Human, vertebrates
Respiratory
None
Genome
Proteome
Aichi virus
Kobuvirus,
Picornaviridae
Human
Fecal-oral
Gastroenteritis
Genome
Proteome
Australian bat lyssavirus
Lyssavirus,
Rhabdoviridae
Human, bats
Zoonosis, animal bite
Fatal encephalitis
Genome
Proteome
BK polyomavirus
Polyomavirus,
Polyomaviridae
Human
Respiratory fluids or urine
None
Genome
Proteome
Banna virus
Seadornavirus,
Reoviridae
Human, cattle, pig, mosquitoes
Zoonosis, arthropod bite
Encephalitis
1, 2, 3, 4, 5, 6,
7, 8, 9, 10, 11
Proteome
Barmah forest virus
Alphavirus,
Togaviridae
Human, marsupials, mosquitoes
Zoonosis, arthropod bite
Fever, joint pain
Genome
Proteome
Bunyamwera virus
Orthobunyavirus,
Bunyaviridae
Human, mosquitoes
Zoonosis, arthropod bite
Encephalitis
1, 2, 3
Proteome
Bunyavirus La Crosse
Orthobunyavirus,
Bunyaviridae
Human, deer, mosquitoes, tamias
Zoonosis, arthropod bite
Encephalitis
1, 2, 3
Proteome
Bunyavirus snowshoe hare
Orthobunyavirus,
Bunyaviridae
Human, rodents, mosquitoes
Zoonosis, arthropod bite
Encephalitis
S M L
Proteome
Cercopithecine herpesvirus
Lymphocryptovirus,
Herpesviridae
Human, monkeys
Zoonosis, animal bite
Encephalitis
Genome
Proteome
Chandipura virus
Vesiculovirus,
Rhabdoviridae
Human, sandflies
Zoonosis, athropod bite
Encephalitis
Not available
Proteome
Chikungunya virus
Alphavirus,
Togaviridae
Human, monkeys, mosquitoes
Zoonosis, arthropod bite
Fever, joint pain
Genome
Proteome
Cosavirus A
Cosavirus,
Picornaviridae
Human
Fecal-oral (probable)
–
Genome
Proteome
Cowpox virus
Orthopoxvirus,
Poxviridae
Human, mammals
Zoonosis, contact
None
Genome
Proteome
Coxsackievirus
Enterovirus,
Picornaviridae
Human
Fecal-oral
Meningitis, myocarditis, paralysis
Genome
Proteome
Crimean-Congo hemorrhagic fever virus
Nairovirus,
Bunyaviridae
Human, vertebrates, ticks
Zoonosis, arthropod bite
Hemorrhagic fever
1, 2, 3
Proteome
Dengue virus
Flavivirus,
Flaviviridae
Human, mosquitoes
Zoonosis, arthropod bite
Hemorrhagic fever
Genome
Proteome
Dhori virus
Thogotovirus,
Orthomyxoviridae
Human, ticks
Zoonosis, arthropod bite
Fever, encephalitis
Not available
Proteome
Dugbe virus
Nairovirus,
Bunyaviridae
Human, ticks
Zoonosis, arthropod bite
Thrombocytopaenia
1, 2, 3
Proteome
Duvenhage virus
Lyssavirus,
Rhabdoviridae
Human, mammals
Zoonosis, animal bite
Fatal encephalitis
Not available
Proteome
Eastern equine encephalitis virus
Alphavirus,
Togaviridae
Human, birds, mosquitoes
Zoonosis, arthropod bite
Encephalitis
Genome
Proteome
Ebolavirus
Ebolavirus,
Filoviridae
Human, monkeys, bats
Zoonosis, contact
Hemorrhagic fever
Genome
Proteome
Echovirus
Enterovirus,
Picornaviridae
Human
Fecal-oral
Common cold
Genome
Proteome
Encephalomyocarditis virus
Cardiovirus,
Picornaviridae
Human, mouse, rat, pig
Zoonosis
Encephalitis
Genome
Proteome
Epstein-Barr virus
Lymphocryptovirus,
Herpesviridae
Human
Contact, saliva
Mononucleosis
Genome
Proteome
European bat lyssavirus
Lyssavirus,
Rhabdovirus
Human, bats
Zoonosis, animal bite
Fatal encephalitis
Genome
Proteome
GB virus C/Hepatitis G virus
Pegivirus,
Flaviviridae
Human
Blood, occasionally sexual
None
Genome
Proteome
Hantaan virus
Hantavirus,
Bunyaviridae
Human, rodents
Zoonosis, urine, saliva
Renal or respiratory syndrome
1, 2, 3
Proteome
Hendra virus
Henipavirus,
paramyxoviridae
Human, horse, bats
Zoonosis, animal bite
Encephalitis
Genome
Proteome
Hepatitis A virus
Hepatovirus,
picornaviridae
Human
Fecal-oral
Hepatitis
Genome
Proteome
Hepatitis B virus
Orthohepadnavirus,
Hepadnaviridae
Human, Chimpanzees
Sexual contact, blood
Hepatitis
Genome
Proteome
Hepatitis C virus
Hepacivirus,
Flaviviridae
Human
Sexual, blood
Hepatitis
Genome
Proteome
Hepatitis E virus
Hepevirus,
Unassigned
Human, pig, monkeys, some rodents, chicken
Zoonosis, food
Hepatitis
Genome
Proteome
Hepatitis delta virus
Deltavirus,
Unassigned
Human
Sexual contact, blood
Hepatitis
Genome
Proteome
Horsepox virus
Orthopoxvirus,
Poxviridae
Human, horses
Zoonosis, contact
None
Not available
Proteome
Human adenovirus
Mastadenovirus,
Adenoviridae
Human
Respiratory, fecal-oral
Respiratory
Genome
Proteome
Human astrovirus
Mamastrovirus,
Astroviridae
Human
Fecal-oral
Gastroenteritis
Genome
Proteome
Human coronavirus
Alphacoronavirus,
Coronaviridae
Human
Respiratory
Respiratory
Genome
Proteome
Human cytomegalovirus
Cytomegalovirus,
Herpesviridae
Human
Contact, urine, saliva
Mononucleosis, pneumonia
Genome
Proteome
Human enterovirus 68, 70
Enterovirus,
Picornaviridae
Human
Fecal-oral
Diarrhea, neurological disorder
Genome
Proteome
Human herpesvirus 1
Simplexvirus,
Herpesviridae
Human
Sexual contact, saliva
Skin lesions
Genome
Proteome
Human herpesvirus 2
Simplexvirus,
Herpesviridae
Human
Sexual contact, saliva
Skin lesions
Genome
Proteome
Human herpesvirus 6
Roseolovirus,
Herpesviridae
Human
Respiratory, contact
Skin lesions
Genome
Proteome
Human herpesvirus 7
Roseolovirus,
Herpesviridae
Human
Respiratory, contact
Skin lesions
Genome
Proteome
Human herpesvirus 8
Rhadinovirus,
Herpesviridae
Human
Sexual contact, saliva
Skin lymphoma
Genome
Proteome
Human immunodeficiency virus
Lentivirus,
Retroviridae
Human
Sexual contact, blood
AIDS
Genome
Proteome
Human papillomavirus 1
Mupapillomavirus,
Papillomaviridae
Human
Contact
Skin warts
Genome
Proteome
Human papillomavirus 2
Alphapapillomavirus,
Papillomaviridae
Human
Contact
Skin warts
Genome
Proteome
Human papillomavirus 16,18
Alphapapillomavirus,
Papillomaviridae
Human
Sexual
Genital warts,
cervical cancer
Genome
Proteome
Human parainfluenza
Respirovirus,
Paramyxoviridae
Human
Respiratory
Respiratory
Genome
Proteome
Human parvovirus B19
Erythrovirus,
Parvoviridae
Human
Respiratory
Skin lesion
Genome
Proteome
Human respiratory syncytial virus
Orthopneumovirus,
Pneumoviridae
Human
Respiratory
Respiratory
Genome
Proteome
Human rhinovirus
Enterovirus,
Picornaviridae
Human
Respiratory
Respiratory
Genome
Proteome
Human SARS coronavirus
Betacoronavirus,
Coronaviridae
Human, bats, palm civet
Zoonosis
Respiratory
Genome
Proteome
Human spumaretrovirus
Spumavirus,
Retroviridae
Human
Contact, saliva
None
Not available
Proteome
Human T-lymphotropic virus
Deltaretrovirus,
Retroviridae
Human
Sexual contact, maternal-neonatal
Leukemia
Genome
Proteome
Human torovirus
Torovirus,
Coronaviridae
Human
Fecal-oral
Gastroenteritis
Not available
Not available
Influenza A virus
Influenzavirus A,
Orthomyxoviridae
Human, birds, pigs
Respiratory or Zoonosis, animal contact
Flu
1, 2, 3, 4, 5, 6,
7 ,8
Proteome
Influenza B virus
Influenzavirus B,
Orthomyxoviridae
Human
Respiratory
Flu
1, 2, 3, 4, 5, 6,
7, 8
Proteome
Influenza C virus
Influenzavirus C,
Orthomyxoviridae
Human
Respiratory
Flu
1, 2, 3, 4, 5, 6,
7
Proteome
Isfahan virus
Vesiculovirus,
Rhabdoviridae
Human, sandflies, gerbils
Zoonosis, arthropod bite
Undocumented, encephalitis?
Not available
Proteome
JC polyomavirus
Polyomavirus,
Polyomaviridae
Human
Fecal-oral or urine
Encephalitis
Genome
Proteome
Japanese encephalitis virus
Flavivirus,
Flaviviridae
Human, horses, birds, mosquitoes
Zoonosis, arthropod borne
Encephalitis
Genome
Proteome
Junin arenavirus
Arenavirus,
Arenaviridae
Human, rodents
Zoonosis, fomite
Hemorrhagic fever
1, 2
Proteome
KI Polyomavirus
Polyomavirus,
Polyomaviridae
Human
Fecal-oral or urine
Encephalitis
Genome
Proteome
Kunjin virus
Flavivirus,
Flaviviridae
Human, horses, birds, mosquitoes
Zoonosis, arthropod borne
Encephalitis
Not available
Proteome
Lagos bat virus
Lyssavirus,
Rhabdoviridae
Human, mammals
Zoonosis, animal bite
Fatal encephalitis
Not available
Proteome
Lake Victoria marburgvirus
Marburgvirus,
Filoviridae
Human, monkeys, bats
Zoonosis, fomite
Hemorrhagic fever
Genome
Proteome
Langat virus
Flavivirus,
Flaviviridae
Human, ticks
Zoonosis, arthropod borne
Encephalitis
Genome
Proteome
Lassa virus
Arenavirus,
Arenaviridae
Human, rats
Zoonosis, fomites
Hemorrhagic fever
1, 2
Proteome
Lordsdale virus
Norovirus,
Caliciviridae
Human
Fecal-oral
Gastroenteritis
Not available
Proteome
Louping ill virus
Flavivirus,
Flaviviridae
Human, mammals, ticks
Zoonosis, arthropod bite
Encephalitis
Genome
Proteome
Lymphocytic choriomeningitis virus
Arenavirus,
Arenaviridae
Human, rodents
Zoonosis, fomite
Encephalitis
1, 2
Proteome
Machupo virus
Arenavirus,
Arenaviridae
Human, monkeys, mouse
Zoonosis, fomite
Encephalitis
1, 2
Proteome
Mayaro virus
Alphavirus,
Togaviridae
Human, mosquitoes
Zoonosis, arthropod bite
Fever, joint pain
Genome
Proteome
MERS coronavirus
Betacoronavirus,
Coronaviridae
Human, Tomb bat
Zoonosis
Respiratory
Genome
Proteome
Measles virus
Morbilivirus,
Paramyxoviridae
Human
Respiratory
Fever, rash
Genome
Proteome
Mengo encephalomyocarditis virus
Cardiovirus,
Picornaviridae
Human, mouse, rabbit
Zoonosis
Encephalitis
Not available
Proteome
Merkel cell polyomavirus
Polyomavirus,
Polyomaviridae
Human
–
Merkel cell carcinoma
Genome
Proteome
Mokola virus
Lyssavirus,
Rhabdoviridae
Human, rodents, cat, dog shrew
Zoonosis, animal bite
Encephalitis
Genome
Proteome
Molluscum contagiosum virus
Molluscipoxvirus,
Poxviridae
Human
Contact
Skin lesions
Genome
Proteome
Monkeypox virus
Orthopoxvirus,
Poxviridae
Human, mouse, prairie dog
Zoonosis, contact
Skin lesions
Genome
Proteome
Mumps virus
Rubulavirus,
Paramyxoviridae
Human
Respiratory, saliva
Mumps
Genome
Proteome
Murray valley encephalitis virus
Flavivirus,
Flaviviridae
Human, mosquitoes
Zoonosis, arthropod bite
Encephalitis
Genome
Proteome
New York virus
Hantavirus,
Bunyavirus
Human, mouse
Zoonosis, urine, saliva
Hemorrhagic fever
Not available
Not available
Nipah virus
Henipavirus,
Paramyxoviridae
Human, bats
Zoonosis, animal bite
Encephalitis
Genome
Proteome
Norwalk virus
Norovirus,
Caliciviridae
Human
Fecal-oral
Gastroenteritis
Genome
Proteome
O'nyong-nyong virus
Alphavirus,
Togaviridae
Human, mosquitoes
Zoonosis, arthropod bite
Fever, joint pain
Genome
Proteome
Orf virus
Parapoxvirus,
Poxviridae
Human, mammals
Zoonosis, contact
Skin lesions
Genome
Proteome
Oropouche virus
Orthobunyavirus,
Bunyaviridae
Human, wild animals(sloths)
Zoonosis, arthropod bite
Fever, joint pain
1, 2, 3
Proteome
Pichinde virus
Arenavirus,
Arenaviridae
Human, rat, guinea pig
Zoonosis, fomite
Hemorrhagic fever
1, 2
Proteome
Poliovirus
Enterovirus,
Picornaviridae
Human, mammals
Fecal-oral
Poliomyelitis
Genome
Proteome
Punta toro phlebovirus
Phlebovirus,
Bunyaviridae
Human, sandflies
Zoonosis, arthropod bite
Hemorrhagic fever
Not available
Not available
Puumala virus
Hantavirus,
Bunyavirus
Human, bank vole
Zoonosis, urine, saliva
Hemorrhagic fever
1, 2, 3
Proteome
Rabies virus
Lyssavirus,
Rhabdoviridae
Human, mammals
Zoonosis, animal bite
Fatal encephalitis
Genome
Proteome
Rift valley fever virus
Phlebovirus,
Bunyaviridae
Human, mammals, mosquitoes, sandflies
Zoonosis, arthropod bite
Hemorrhagic fever
1, 2, 3
Proteome
Rosavirus A
Rosavirus,
Picornaviridae
Human
Genome
Proteome
Ross river virus
Alphavirus,
Togaviridae
Human, mosquitoes, marsupials
Zoonosis, arthropod bite
Fever, joint pain
Genome
Proteome
Rotavirus A
Rotavirus,
Reoviridae
Human
Fecal-oral
Gastroenteritis
1, 2, 3, 4, 5, 6,
7, 8, 9, 10, 11
Proteome
Rotavirus B
Rotavirus,
Reoviridae
Human
Fecal-oral
Gastroenteritis
1, 2, 3, 4, 5, 6,
7, 8, 9, 10, 11
Proteome
Rotavirus C
Rotavirus,
Reoviridae
Human
Fecal-oral
Gastroenteritis
1, 2, 3, 4, 5, 6,
7, 8, 9, 10, 11
Proteome
Rubella virus
Rubivirus,
Togaviridae
Human
Respiratory
Rubella
Genome
Proteome
Sagiyama virus
Alphavirus,
Togaviridae
Human, horse, pig, mosquitoes
Zoonosis, arthropod bite
Fever, joint pain
Not available
Proteome
Salivirus A
Salivirus,
Picornaviridae
Human
Gastroenteritis
Genome
Proteome
Sandfly fever sicilian virus
Phlebovirus,
Bunyaviridae
Human, sandflies
Zoonosis, arthropod bite
Hemorrhagic fever
Not available
Not available
Sapporo virus
Sapovirus,
Caliciviridae
Human
Fecal-oral
Gastroenteritis
Genome
Proteome
SARS coronavirus 2
Betacoronavirus,
Coronaviridae
Human, bats, pangolin?
Respiratory
Covid-19
Genome
Proteome
Semliki forest virus
Alphavirus,
Togaviridae
Human, birds, hedgehog, mosquitoes
Zoonosis, arthropod bite
Fever, joint pain
Genome
Proteome
Seoul virus
Hantavirus,
Bunyavirus
Human, rats
Zoonosis, urine, saliva
Hemorrhagic fever
1, 2, 3
Proteome
Simian foamy virus
Spumavirus,
Retroviridae
Human, monkeys
Zoonosis, contact
None
Genome
Proteome
Simian virus 5
Rubulavirus,
Paramyxoviridae
Human, dog
Zoonosis, contact
Undocumented
Not available
Proteome
Sindbis virus
Alphavirus,
Togaviridae
Human, birds, mosquitoes
Zoonosis, arthropod bite
Pogosta_disease Fever, joint pain
Genome
Proteome
Southampton virus
Norovirus,
Caliciviridae
Human
Fecal-oral
Gastroenteritis
Not available
Proteome
St. louis encephalitis virus
Flavivirus,
Flaviviridae
Human, birds, mosquitoes
Zoonosis, arthropod bite
Encephalitis
Genome
Proteome
Tick-borne powassan virus
Flavivirus,
Flaviviridae
Human, ticks
Zoonosis, arthropod bite
Encephalitis
Genome
Proteome
Torque teno virus
Alphatorquevirus,
Anelloviridae
Human
Sexual, blood
None
Genome
Proteome
Toscana virus
Phlebovirus,
Bunyaviridae
Human, mosquitoes
Zoonosis, arthropod bite
Hemorrhagic fever
1, 2, 3
Proteome
Uukuniemi virus
Phlebovirus,
Bunyaviridae
Human, ticks
Zoonosis, arthropod bite
Hemorrhagic fever
1, 2, 3
Proteome
Vaccinia virus
Orthopoxvirus,
Poxviridae
Human, mammals
Contact
None
Genome
Proteome
Varicella-zoster virus
Varicellovirus,
Herpesviridae
Human
Respiratory, contact
Varicella
Genome
Proteome
Variola virus
Orthopoxvirus,
Poxviridae
Human
Respiratory
Variola
Genome
Proteome
Venezuelan equine encephalitis virus
Alphavirus,
Togaviridae
Human, rodents, mosquitoes
Zoonosis, arthropod bite
Fever, joint pain
Genome
Proteome
Vesicular stomatitis virus
Vesiculovirus,
Rhabdoviridae
Human, cattle, horse, pig, flies
Zoonosis, athropod bite
Encephalitis
Genome
Proteome
Western equine encephalitis virus
Alphavirus,
Togaviridae
Human, vertebrates, mosquitoes
Zoonosis, arthropod bite
Fever, joint pain
Genome
Proteome
WU polyomavirus
Polyomavirus,
Polyomaviridae
Human
Respiratory fluids or urine
None
Genome
Proteome
West Nile virus
Flavivirus,
Flaviviridae
Human, birds, ticks, mosquitoes
Zoonosis, arthropod bite
Encephalitis
Genome
Proteome
Yaba monkey tumor virus
Orthopoxvirus,
Poxviridae
Human, monkeys
Zoonosis, contact
None
Genome
Proteome
Yaba-like disease virus
Orthopoxvirus,
Poxviridae
Human, monkeys
Zoonosis, contact
None
Genome
Proteome
Yellow fever virus
Flavivirus,
Flaviviridae
Human, monkeys, mosquitoes
Zoonosis, arthropod bite
Hemorrhagic fever
Genome
Proteome
Zika virus
Flavivirus,
Flaviviridae
Human, monkeys, mosquitoes
Zoonosis, arthropod bite
Fever, joint pain, rash
Genome
Proteome
Similar Recent Posts by this Author: