Ministers told to "get a grip" after issuing the wrong guidance for families with no recourse to public funds.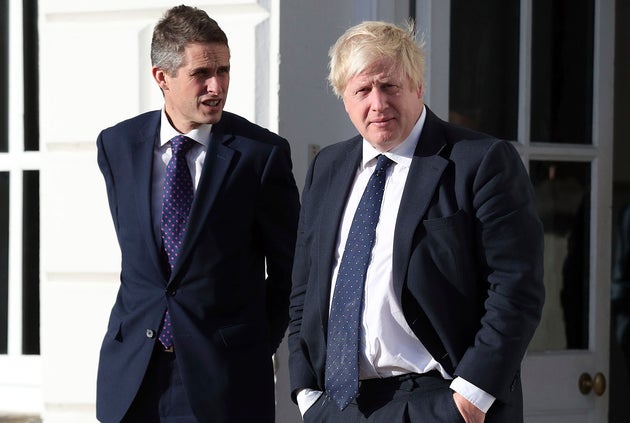 Coronavirus has changed everything. Make sense of it all with the Waugh Zone, our evening politics briefing. Sign up now.
Ministers were told to "get a grip" as charities reported hard-up migrant schoolchildren were being denied free school meals because the government had issued the wrong guidance.
Amid public pressure, Whitehall boosted eligibility for food support to include some families who live legally in the UK but are cut off from benefits due to their immigration status.
Children's minister Vicky Ford confirmed in a written statement on June 9 that some children – among the group categorised as having "no recourse to public funds" (NRPF) – could apply for free school meals, provided household income was no more than £16,190 a year.
But guidance issued by the Department for Education on June 25, and updated on June 30, appears to ignore the change in policy and states there is a "maximum earnings threshold of £7,400 per annum" for the families eligible.
The blunder has been discovered as the July 10 deadline for the government's much-trumpeted Covid-19 "summer food fund" looms.
If followed by schools, it would wrongly exclude some of the poorest children from claiming free school meals – and charities have told HuffPost UK families have already been in touch having been denied help.
Imogen Richmond-Bishop, campaign co-ordinator for the Right to Food group, said: "The immigration condition 'no recourse to public funds' is so inhumane that Boris Johnson could barely believe it when it was pointed out to him by MPs.
"And yet there are hundreds of thousands of families with NRPF across the UK and they are at a high risk of suffering from poverty and household food insecurity due to their exclusion from the social security system.
"The incorrect guidance regarding the maximum income threshold is causing real hardship for families with NRPF. We are hearing reports of children being denied free school meal support because of the confusion around eligibility, all of this at a time that is already stressful enough – and families need all the help they can get.
"All children have a right to food and no child should be denied the support they need because of they or their parents' immigration status."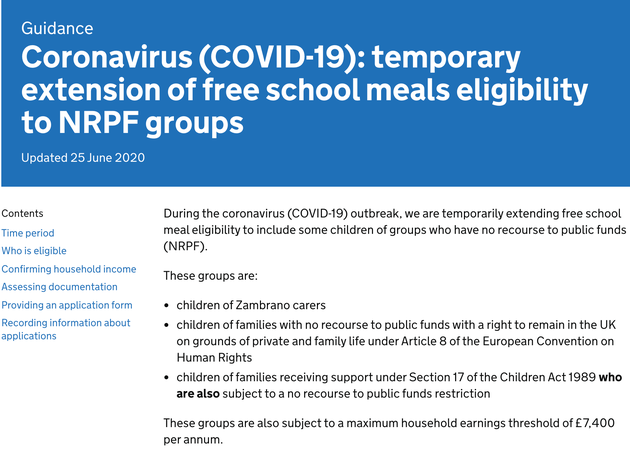 Tulip Siddiq, Labour's shadow minister for children and early years, said it "beggars belief" that ministers failed to get it right for parents already denied benefits such as Universal Credit.
She said: "Making sure that government guidance is accurate matters. This type of mistake could lead to many of the poorest children going hungry over the summer.
"Schools will be under huge pressure to identify the children who need free school meals over the summer and get applications in before the arbitrary deadline of July 10. If they have followed the government's inaccurate guidance over the last few days, they will have unfairly excluded children whose parents are unable to access other types of welfare support.
"It beggars belief that this incorrect information has been on the government's website for nearly a full week. Ministers need to get a grip and do much more to make sure that those who are eligible for support are made aware of it and schools get more assistance to provide it."
Boris Johnson was forced into a U-turn on free school meals over summer for low-income families, following a high-profile campaign from Manchester United striker Marcus Rashford.
HuffPost UK has contacted the government for comment.
Similar Recent Posts by this Author: