Marcus Rashford: Boris Johnson relents over footballer's campaign with £396m food package
By Hannah Richardson
Education and social affairs reporter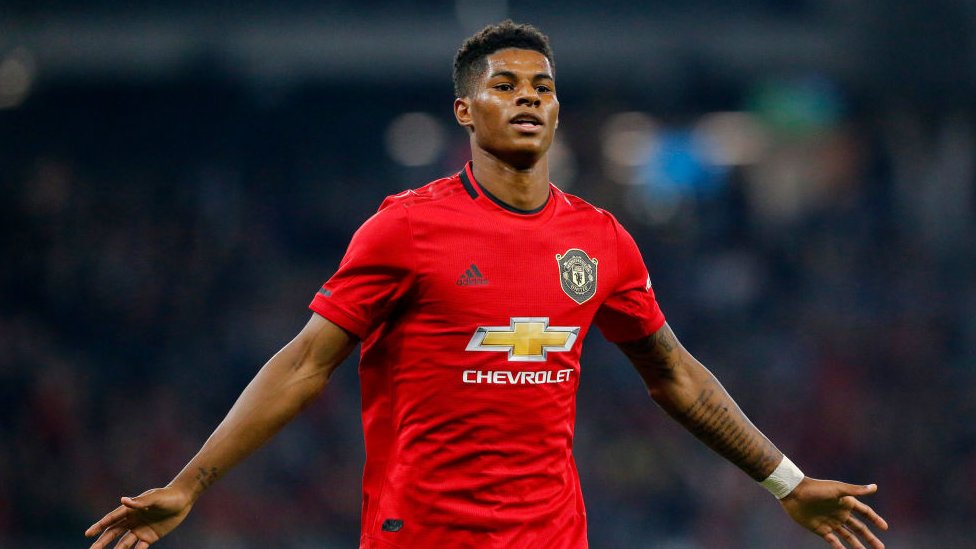 IMAGE COPYRIGHT

GETTY IMAGES
Marcus Rashford's campaign to tackle holiday hunger and child poverty in England has been addressed with a £396m package in a government climbdown.
The prime minister telephoned the footballer on Saturday to tell him of the new plans for targeted support over Christmas, Easter and Summer holidays.
Rashford said nearly 1.7 million children would be helped, adding he had a good conversation with Boris Johnson.
Previously the government had argued Universal Credit was enough support.
More than a million people signed a petition set up by the Manchester United and England player, calling for a package of measures including free food for poor children throughout the school holidays.
Mr Johnson contacted Rashford after he played in United's Premier League clash against Everton.
Speaking after the Saturday afternoon telephone call, Rashford said: "Following the game today, I had a good conversation with the prime minister to better understand the proposed plan, and I very much welcome the steps that have been taken to combat child food poverty in the UK."
He said his immediate concern was the children who miss out on support "because their family income isn't quite low enough".
But he added: "The intent the government have shown today is nothing but positive and they should be recognised for that.
"The steps made today will improve the lives of near 1.7 million children in the UK over the next 12 months, and that can only be celebrated."
'Greatest moment'
Rashford's campaign for further action against food poverty began in June, after the government insisted it would not provide vouchers over the summer holidays for the 1.3 million children in England who were receiving free school meals in term time – despite having given such support during the first coronavirus lockdown in April.
The footballer said: "I am fully committed to this cause, and I will fight for the rest of my life for it, because in my mind, no child should ever go hungry in the United Kingdom."
"I want to take this moment to reflect on what has occurred over the last couple of weeks. I am so proud of 'us' as a collective."
Seeing the role that everyone had played in supporting the most vulnerable children had been "the greatest moment of my life", he said.

Marcus Rashford has prompted the government to act before.
It is the second time the prime minister has picked up the phone to 23-year-old footballer, whose campaign has struck a chord with many, and left many Conservatives acknowledging privately for some time they would have to change tack.
Strikingly, Marcus Rashford insists this isn't about politics, or criticising Boris Johnson, it's about helping poor families.
"We're not against him. That's the main reason I was happy to talk to him," he's told BBC Breakfast.
But what also stands out is he's moving onto the next strand of his campaign – arguing that more families should get help.
Given his success so far, don't bet against him pursuing this pretty doggedly in the months ahead.

Councils step up
Last month scores of ministers lined up to defend the government's refusal to extend free school meals over the latest half term holidays.
And MPs voted down a Commons motion to extend free school meal provision, saying enough support was already being provided through the benefit system.
This prompted a number of local authorities to say they would continue offering free school meals throughout the week's holiday in spite of that.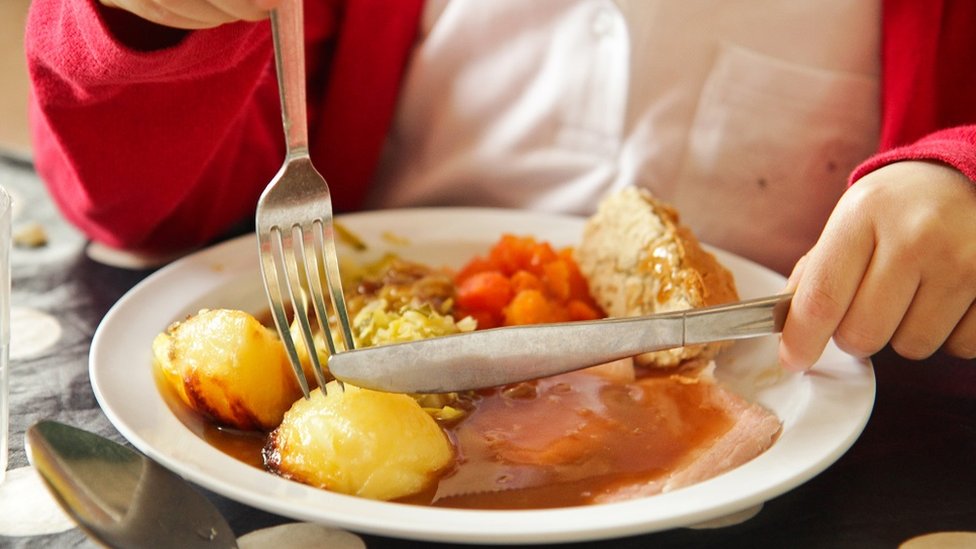 IMAGE COPYRIGHT

THE SCHOOL FOOD PLAN
However, the new scheme goes much further than that.
As well as struggling families getting help with food and bills through the £170m fund distributed by local councils, an existing holiday food and activities programme will be expanded with a £210m investment.
On top of that, there will be a £16m cash boost for the nation's food banks.
'Difficult time'
Announcing the package, Work and Pensions Secretary Therese Coffey said the government knew it was a challenging time for many, and insisted it had consistently supported the lowest paid families by boosting welfare support.
"We want to make sure vulnerable people are cared for throughout this difficult time and, above all, no one should go hungry or be unable to pay their bills this winter," she added.
Shadow education secretary Kate Green said Labour had been campaigning for such a change, adding: "This should have been announced weeks ago to help the children at risk of going hungry over half term."
She said: "This announcement is a necessary starting point, but ministers must ensure no child goes hungry, and bring forward a long-term strategy to tackle child poverty".
Anna Taylor, executive director of the Food Foundation, said: "This is a big win for disadvantaged children. A win for all those brave parents and children who have spoken up about their experiences of food poverty.
"And a win for the 1.1 million individuals across the country who showed how much they cared by signing Marcus Rashford's petition."
She added that it must be kept in mind that approximately 1.7 million disadvantaged children would continue to miss out on the benefits of free school meals and healthy start because the qualifying income level is too low.
Anna Feuchtwang, chief executive of the National Children's Bureau, who also chairs the End Child Poverty Coalition, said: "Marcus Rashford deserves enormous credit for pushing the issue of poverty to the top of the public's agenda and we must also acknowledge the government for listening."
James Toop, chief executive, of food charity Bite Back 2030, said: "It's great that Boris has listened to the voices of our young people who have been campaigning for meal provision through the holidays to be a priority through this crisis.
"This announcement shows real commitment to helping 1.4 million children access a decent, nutritious meal over Christmas and the February half term.
Leora Cruddas, chief executive of the Confederation of School Trusts, said the scheme was particularly welcome.
"Christmas will not be the same this year – and it is therefore even more important that we ensure that children have food and are kept warm."
Head teachers also welcomed the scheme but questioned why it could not have been in place for October's half term.
Nick Brook, deputy general secretary of school leaders' union the NAHT, said while the expansion of the activities programme was a positive move, it "falls short in addressing fully the issue of holiday hunger".
He added: "We would question whether provision of food to those going hungry should be dependent upon them attending an activity, which for a whole host of reasons might not be suitable, available or accessible for particular groups."
Similar Recent Posts by this Author: