Labour's canvassing strategy had 'major deficiencies', leaked report says
Opportunity to increase vote share in marginals was missed due to ineffective grassroots operation, analysis shows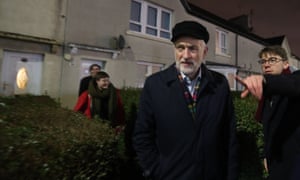 Jeremy Corbyn joins Labour activists to canvass in Govan, Glasgow, before last December's election. Photograph: Andrew Milligan/PA
A damning internal report into Labour's on-the-ground election campaign has revealed activists did not have enough campaign material, were poorly prepared to talk about policy on the doorstep and did not target the right marginal seats.
The leaked analysis by a Labour staffer, produced for senior party figures, found that officials were not in the right parts of the country to run an effective strategy, despite the fact that door-to-door campaigning increases turnout for Labour.
And though Labour is the largest political party in Europe, the report – seen by the Guardian – suggests it needs to expand its membership even further if it is to swing decisive seats in future elections.
"Discussions with activists reveal … major deficiencies in the running of the campaign," the report reveals. "These include poor quality and late delivery of printed materials, lack of communication and preparation over key policy lines, lack of clarity on how campaigns could secure the data of newly registered voters, the unreliability of digital tools, and inadequate training of activists.
"Therefore there is clearly major room for improvement in the effectiveness of on-the-ground campaigning."
Significant regional differences were also revealed in the rate of conversations Labour activists had with voters. While London marginals recorded that there had been 23,000 "contacts" (28% of eligible voters), in Scottish marginals there was a contact rate of just 6.4%, or 4,745 people.
Of the 135 key marginals the staffer analysed, a contact rate of more than 10% of voters was not reached in 56 of them. The report said the constituencies were "either not targeted or targeted weakly".
Only 25 constituency Labour parties achieved contact rates of more than 20%.
Similar Recent Posts by this Author: