Brits outraged after BoJo accepts Health Secretary Matt Hancock's apology for snogging aide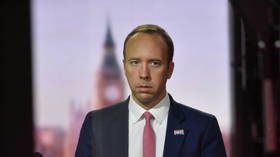 Prime Minister Boris Johnson has accepted Health Secretary Matt Hancock's apology for breaking coronavirus guidelines by smooching an aide. Some Brits are furious, given Hancock's history of zero-tolerance on such encounters.
Hancock was caught red-handed on Friday when the Sun published images taken from a CCTV camera of the minister – who is married with three children – snogging aide Gina Coladangelo. Hancock's handsy encounter was in violation of his own coronavirus guidelines, which state that co-workers should remain two metres apart from each other, and earlier laws forbidding "casual" sexual encounters between non-cohabiting adults.
ALSO ON RT.COM'Hands, face, space': Brits troll health secretary for not following own guidance over reports of sneaky affair with aideThe minister apologised for breaking social distancing guidelines, stating that he was "very sorry" for letting the country down. Hancock's apology was evidently enough for Prime Minister Boris Johnson, and Downing Street announced later on Friday that his apology was accepted and the "matter closed." 
Legions of Twitter commenters weren't as forgiving as Johnson, especially as Hancock supported the resignation last year of Professor Neil Ferguson, who was caught breaching the lockdown restrictions he helped draft to meet his married lover. 
The Labour Party led the charge against Hancock, calling out his double standards on Ferguson and demanding "he must go."
Similar Recent Posts by this Author: