More than 16,000 people in UK care homes have died from coronavirus
Official figures show almost a third of Covid-19 fatalities have happened in care homes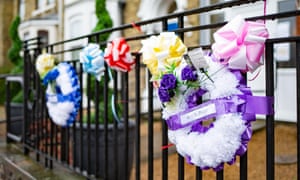 Wreaths are displayed outside a care home. Photograph: Terry Harris/Rex/Shutterstock
More than 16,000 people have died from Covid-19 in UK care homes, according to the latest official figures – almost a third of all fatalities.
The grim milestone was reached with the deaths of 564 residents in England and Wales in the week to 5 June, according to the Office for National Statistics' analysis of death certificates.
The rate of deaths in care homes is falling as infections diminish following the lockdown, and the number of deaths above the five-year average in care homes fell to its lowest level since early April.
But care homes remain hard hit and operators are calling for financial help and fresh guarantees from ministers over testing and supplies of personal protective equipment to avert a similar impact in a widely expected second peak of infection.
Similar Recent Posts by this Author: