Care home fatalities to be included in daily coronavirus death tolls
Move comes after sharp rise of more than 4,300 deaths over a fortnight in England and Wales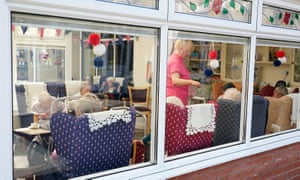 The Office for National Statistics said the figures may yet be an underestimate because of reporting delays. Photograph: Tim Keeton/EPA
The death toll from coronavirus in care homes will be announced daily from Wednesday after figures revealed a sharp rise of more than 4,300 deaths in a fortnight in England and Wales and care operators said they were at the centre of the crisis.
The health secretary, Matt Hancock, said care deaths would now be tracked in the same way as hospital fatalities "to keep the focus on what is happening in care homes" and allow policy to be changed swiftly if needed.
Until now, data has been published weekly and a week out of date. But Hancock declined to apologise to bereaved families for failing to protect their loved ones, amid widely reported shortages of personal protective equipment and testing in care homes.
Hancock said testing would be expanded to include people with coronavirus symptoms aged over 65 and members of their households, as well as workers who have had to leave home in order to do their jobs, and their households.
"Building on successful pilots, we will be rolling out testing of asymptomatic residents and staff in care homes in England, and to patients and staff in the NHS. This will mean that anyone who is working or living in a care home will be able to get access to a test whether they have symptoms or not," Hancock said. "The spread of the virus though care homes is absolutely a top priority."
Data gathered by the Care Quality Commission (CQC), the care homes regulator, published for the first time on Tuesday by the Office for National Statistics showed that from 10-24 April care homes reported 4,343 deaths from coronavirus. Half of them came in the last five days, indicating an accelerating death toll.
It marks a sharp rise in the official death toll in care homes, which stood at 1,043 up to 10 April.
There has been growing frustration among care home operators, staff and relatives that the government has underestimated the gravity of the impact of the virus in care.
Similar Recent Posts by this Author: